Valenta and VP185 Applications
This page shows a selection of the applications of the Valenta range of engines and its successor, the VP185 range. The Valenta was introduced to the market in 1972 and the VP185 in 1993. Key markets for both engines have been naval and rail traction applications, continuing Paxman involvements with both which stretch back to the 1930s. From the late 1980s there have been major changes in the market for large diesels. This factor and the capabilities of the VP185 led the Company to actively pursue additional applications, in particular main propulsion engines for the fast ferry and luxury yacht markets. There has also been renewed focus on the industrial gen-set market. Although this market is highly competitive the Company has been successful in obtaining orders to supply prime movers for large specialist sets for some prestigious projects.
Valenta (Y3J or RP200) Applications
RAIL TRACTION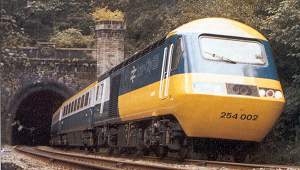 The British High Speed Train (HST) More than 230 Valenta engines have been supplied for the HST, now better known as the InterCity 125. The first two engines were delivered in 1972 for installation in the prototype HST. Because 30 years have elapsed since then, the magnitude of the technical achievements involved is often forgotten. The Valenta was not ready for the market until 1972, and the HST project was a major step into uncharted territory. Yet, just a year after it was built, in June 1973, the prototype HST with its two Paxman engines established a world speed record for diesel rail traction at 143.2 mph (230.4 kph). In 1987 it beat its own previous world record with a speed of 148 mph. More about the HST's story appears on the Diesel Rail Traction page.

The Australian XPT (Express Passenger Train) In 1981 the State Rail Authority of New South Wales introduced its XPT which was based on the British HST. Originally fifteen XPT power cars were built and Paxman supplied twenty 12 cylinder Valentas for the project. The trains were so successful that in 1990 the SRA decided to order four more power cars for which a further four Valentas were ordered.
NAVAL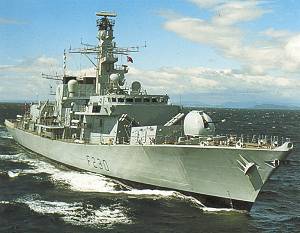 Royal Navy Type 23 ASW Frigates Designed for Anti-Submarine Warfare, a key requirement for these Duke Class 133 metre, 4,000 ton ships is very quiet running with minimal background noise from its machinery. A CODLAG (Combined Diesel-Electric And Gas) propulsion system employs diesel-electric drive when the ship is in 'slow speed silent mode' or when manoeuvring or cruising. For high speed operation the boost is provided by two Rolls Royce Spey SM1 gas turbines.
Power for the diesel-electric drive and all other on-board electrical requirements is provided by four gen-set modules built by Paxman. Each module is mounted on a fabricated steel raft, allowing the engine and generator to be installed or removed as a single unit. The prime mover for each set is a 12 cylinder Valenta producing 1.3 MW at 1,200 rpm. Two of the four modules per ship are located below the waterline. These are double mounted and fitted with acoustic enclosures to minimise noise. The first set of four engines for the Type 23 programme was delivered in Spring 1986. Sixteen Duke Class ships were built.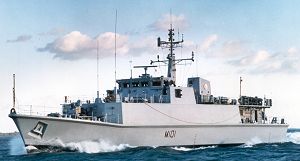 Royal Navy 'Sandown Class' Single Role Minehunter The first of twelve boats in this class, HMS Sandown (M101), was commissioned in 1989. The twelfth, HMS Shoreham M112, was formally accepted into service in November 2001 and commissioned in summer 2002. Built by Vosper Thornycroft, each is powered by two low magnetic 6 cylinder in-line Valentas, each producing 1,523 bhp (continuous rating). These 52.5 metre vessels are one of the very few applications of the 6 cylinder in-line version of the Valenta.
The 6 cylinder Valenta was also supplied for similar Minehunters for the Royal Saudi Navy.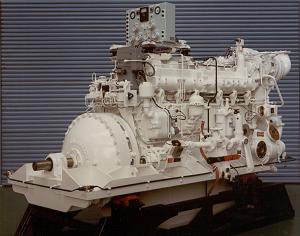 Pictured here is the 6 cylinder Valenta used in the Sandown Class Minehunter. In the foreground, at the drive end of the engine, is the Vulcan coupling. The white paint is the preferred finish of the Royal Navy. It has the advantage of making any oil leaks immediately noticeable!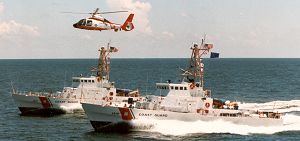 United States' Coast Guard Service "Island Class" Patrol Boats. An important weapon in the US Government's war against drug smuggling, these 110 foot boats were built by Bollinger Machine Shop and Shipyard Inc at Lockport, Louisiana, USA. Paxman initially received an order for forty eight engines for them in 1984/5. The thirty seven class A and B "Island Class" boats are each fitted with two 16 cylinder Valentas with individual ratings of 2,880 bhp at 1,500 rpm (continuous), 3,100 bhp sprint.


United States' Navy "Cyclone Class" Patrol Boats Coastal. In 1990 Paxman received an order for thirty two engines for the eight of these 52 metre boats initially ordered by the US Navy. The boats were built by Bollinger Machine Shop and Shipyard Inc of Lockport, Louisiana. The first 'boat set' of four engines was despatched from Colchester in March 1991 and USS Cyclone, the first of its Class, underwent sea trials in the summer of 1992.
With their four screws, each driven by a 16 cylinder Valenta RP200-1-CM producing 3,350 bhp at 1,500 rpm (continuous), 3,600 bhp at 1,540 rpm (sprint), Cyclone Class boats have a design speed of over 30 knots and a maximum speed of over 35 knots. In 1991 another five boats were ordered, resulting in an order for a further twenty engines. There are fourteen boats in the Class and at least 60 Valentas have been supplied for the PBC programme.
The first thirteen were commissioned as follows: 'Cyclone' and 'Tempest' - Aug 1993; 'Hurricane' - Oct 1993; 'Monsoon' - Jan 1994; 'Typhoon' - Feb 1994; 'Sirocco' - Jun 1994; 'Squall' - Jul 1994; 'Zephyr' - Oct 1994; 'Chinook' - Jan 1995; 'Firebolt' - Mar 1995; 'Whirlwind' - Jun 1995; 'Thunderbolt' - Aug 1995; 'Shamal' - Nov 1995.

Royal Navy Upholder Class Submarines The four Upholder Class submarines are each powered by two 16 cylinder Valenta RPA200SZ engines. The last to be built, "Unicorn", was commissioned in 1993. All four have been sold and are now in service with the Canadian Navy.
HM Customs & Excise "HMCC Sentinel" Two 12 cylinder Valentas, each rated at 1,900 kWb at 1,500 rpm, were ordered in 1993 for this 34 metre customs cutter. Built by Vosper Thornycroft, it was at the time the largest craft in the UK Customs fleet and will maintain a speed in excess of 25 knots. (The same year two Paxman 12 cylinder Vega engines, rated at 1,174 kWb at 1,700 rpm, were ordered for the 26 metre customs cutter "HMCC Vincent".)
FAST FERRIES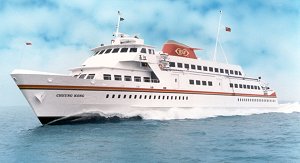 Cheung Kong and Ju Kong In 1982 Paxman received orders for eight engines for Cheung Kong and her sister ship, Ju Kong. Designed to carry 700 passengers each, the ferries were built by Vosper Thorneycroft for service in Hong Kong with the operator Shun Tak Shipping. Each vessel was fitted with four 16 cylinder 3,000 bhp Valentas, driving variable pitch propellers, to give a top speed of 28 knots.

Han Ma Eum Ho (Big Heart, later renamed MV Tezroc) A 45.5 metre catamaran built by Hyundai Heavy Industries in Korea. Launched in 1992, it is designed to carry up to 400 passengers at a maximum speed of 35 knots. The propulsion system comprises two 18 cylinder Valentas, each rated at 4,050 bhp, driving water jets.

POWER GENERATION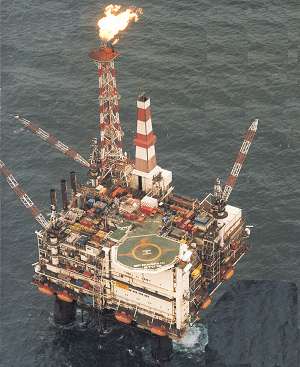 North Sea Oil Platform Paxman built and supplied two stand-by gen-sets, each powered by a 16 cylinder Valenta, for BP's production platform in the Magnus Oil Field (pictured here). The sets were despatched in late 1981.
Paxman also supplied, in 1983, three gen-sets for the Morecambe Bay gas production platform off the north west coast of England. The sets were driven by 8, 12, and 16 cylinder Valentas respectively. They initially provided all the electrical power for the platform until the gas turbine gen-sets were commissioned, after which they were retained as emergency stand-by sets.


VP185 Applications
RAIL TRACTION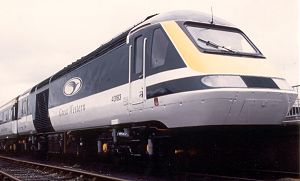 The InterCity 125 In 1994 trials commenced using a 12 cylinder VP185 in an HST power car in place of the original Valenta. The trials proved highly successful, leading to other IC125 power cars being re-engined with the 12VP185.
As at November 2002, seven Great Western and five (soon to be six) Midland Mainline re-engined power cars are in service. Work is in progress re-engining a further twelve Midland Mainline power cars with the VP185, the last of which should be in service by about September 2003.
The Australian XPT (Express Passenger Train) Most, if not all, of the Australian XPT fleet of power cars has now been re-engined with the VP185.

NAVAL

Royal Netherlands Navy LCF Air Defence and Command Frigates Paxman supplied the generator set modules for each of four Royal Netherlands Navy frigates built by the Royal Schelde shipyard at Vllissingen in the Netherlands. 'De Zeven Provincien' (F801) was commissioned in 2002, 'Tromp' (F802) in 2003, 'De Ruyter' (F803) in 2004, and 'Evertsen' (F804) in 2005. The 144 metre ships are designed for a crew of 200 and have a displacement of 6,048 tons.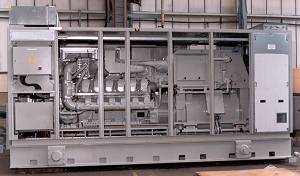 Pictured left is one of the modules nearing completion in Paxman's works at Colchester. There are four modules per ship, each powered by a 12 cylinder VP185 producing 1,650 kWe at 1,800 rpm. They generate electrical power for all on board requirements including the weapons systems. The modules have double raft mountings for shock attenuation and are acoustically enclosed.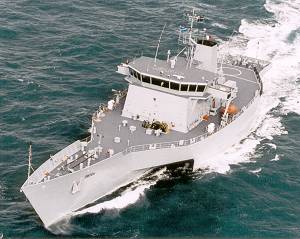 RV Triton This demonstrator trimaran frigate is a two thirds scale prototype of a vessel which could eventually replace the Types 22 and 23 Frigates of the Royal Navy. Built by Vosper Thornycroft for the Ministry of Defence's Evaluation and Research Agency, the triple hull design reduces drag by 20% compared with a comparable conventional monohull vessel. The power for its diesel-electric propulsion is provided by two 12 cylinder VP185s, rated at 2MWe each.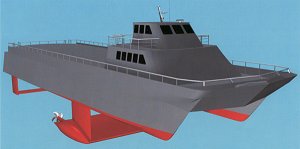 United States' Navy IX 515 Surface Effect Ship The IX 515 serves as a performance test platform for testing and developing Navy weapons systems. Originally fitted with two 16V396 MTU engines, this vessel was re-engined with two 18 cylinder VP185s, each developing 4,000 kWb at 1,950 rpm.
The vessel utilises a cushion of air trapped between the sidewalls and flexible bow and stern seals to lift a large part of the hull clear of the water to reduce drag.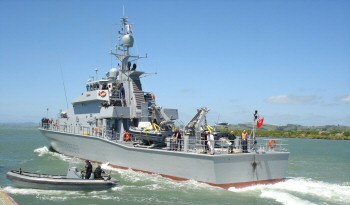 Royal New Zealand Navy Inshore Patrol Vessels Four Inshore Patrol Vessels being built for the Royal New Zealand Navy by Tenix at their Whangarei shipyard in New Zealand. The first two, 'Rotoiti' and 'Hawea', were launched in 2007. Each vessel has two 12VP185s for main propulsion. These are "Two Box" versions, which instead of having a single turbocharger housing with 6 turbochargers, are fitted with two turbocharger boxes, each with three turbochargers, like those on the 18 cylinder VP185. As at early 2008, the eight engines for Tenix were the only Two Box 12s to have been made but Paxman built another, a spare, for Tenix which was depatched in August 2008.
Photo of HMNZS Rotoiti © Norman Iles 2007

OFF-ROAD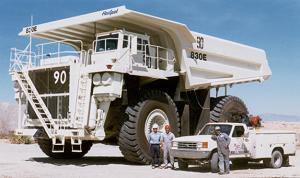 Haulpak 830E Mine Truck. The 12 cylinder VP185 was trialled in an 830E mine truck built by Komatsu Dresser (now Komatsu America International Company) at their Haulpak Division in Peoria, Illinois, USA. Using a diesel-electric arrangement, final drive of this 310 ton vehicle was through an electric motor on each rear wheel.
Trialling commenced in about 1996 at a mineral extraction site in Arizona under arduous conditions. In addition to the desert heat and rough terrain the truck was required to operate almost continuously round the clock. The typical payload was 240 tons. Although the engine performed well, Paxman was ultimately unsuccessful in persuading Komatsu to specify the VP185 for its mine trucks.

FAST FERRIES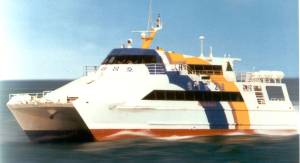 HD-250S Hyundai Foil Cat A 35 metre high speed catamaran ferry designed to carry up to 250 passengers. Built by Hyundai Heavy Industries it entered service in South Korean waters in 1996/97. Two 12 cylinder VP185s, each rated at 2,185 kWb at 1,835 rpm, drive KaMeWa waterjets through Reintjes gearboxes to give the vessel a maximum speed of 45 knots.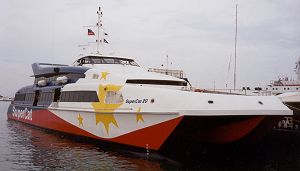 FBM Aboitiz SuperCats Two 50 metre high speed trimaran ferries built by FBM Aboitiz in the Philippines are each fitted with two 12 cylinder VP185s, rated at 2,180 kWb at 1,835 rpm. The ferries are designed to carry up to 404 passengers and have an operational speed in excess of 35 knots.

Aquastrada 82 metre Monohull Fast Ferry Built by Rodriguez Cantieri Navali at Messina, this aluminium-hulled ferry is designed to carry up to 1,246 passengers and 56 cars. Four 18 cylinder VP185s, rated at 3700 kWb, drive LIPS waterjets through Reintjes gearboxes to give a maximum design speed of 39 knots. During sea trials in February 2003 she achieved more than 40 knots and is due to be commissioned later in 2003. The ferry will operate between Spain and Morocco.

'Flying Cloud' A 41 metre catamaran fast ferry built by Derecktor Shipyards of New York for the Woods Hole, Martha's Vineyard & Nantucket Steamship Authority. Two 12VP185s, each rated at 2,500 kWb, drive KaMeWa waterjets to give a top speed of 36 knots with a full load of 300 passengers. The vessel provides a year round passenger and vehicle ferry service to the islands of Martha's Vineyard and Nantucket.

LUXURY YACHTS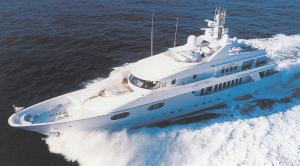 Perfect Prescription (now Perfect Persuasion) A 45 metre luxury superyacht built by Oceancraft in Australia. Powered by two 12VP185s, each rated at 2515 kWb, it has a top speed of 26 knots under full load.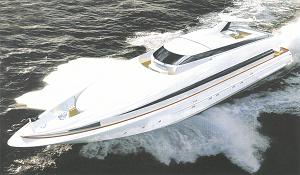 'Adler' A 42 metre vessel with two main propulsion 18VP185s, rated at 4,000 kWb at 1,950 rpm, driving reduction gear boxes and KaMeWa waterjets. Its anticipated top speed is in excess of 50 knots.

POWER GENERATION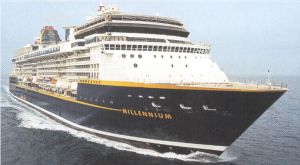 Royal Caribbean International Cruise Ships An 18 cylinder VP185, rated at 3,000 kWe at 1,800 rpm, was supplied for auxiliary power generation on each of eight 1,000 cabin cruise ships for Royal Caribbean International (formerly Royal Caribbean Cruises Ltd).
The builder of the four Millennium series ships, 'Millennium', 'Infinity', 'Summit', and 'Constellation', was Chantiers de l'Atlantique at St Nazaire, France. The 294 metre, 91,000 ton Millennium series ships can accommodate up to 2,450 passengers.
The builder of the four Radiance (previously Vantage) class ships was Meyer Werft of Papenburg, Germany. The 293 metre, 90,090 ton Radiance class ships can accommodate up to 2,500 passengers and 870 crew. The ships are 'Radiance of the Seas' (delivered 2001), 'Brilliance of the Seas' (2002), 'Serenade of the Seas' (2003) and 'Jewel of the Seas' (2004).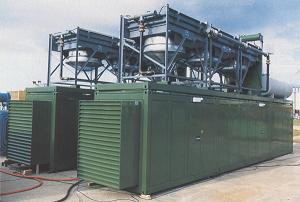 IBM MegaCentre, Southampton Four 12 cylinder VP185s, rated at 2MWe at 1,500 rpm, were supplied in 1995/96 for gen-sets built by Petbow. The sets and their control systems are housed in four 12 metre long acoustically clad containers. As shown in the picture, the cooling radiators are mounted on top of the containers whilst the latter are fitted with louvres at the end for ventilation. The sets supply emergency power for the whole IBM MegaCentre complex.

Yorkshire Electricity In 1996 two 12 VP185s were supplied for stand-by generator sets at Selby Power Stations 1 and 2 respectively.
Banque Paribas Three 12VP185s, with a 2MW at 1,500 rpm rating, were supplied for emergency stand-by generators at the UK Headquarters of Banque Paribas in Marylebone, London.
Anglian Water Two 12VP185s, producing 2MVA at 1,500 rpm, were supplied for stand-by and peak lopping power generation duties at Anglian Water's Sewage Treatment Works, Southend. A cost-saving feature of this installation is that power surplus to Anglian Water's requirements can be fed back into the National Grid.
Thames Water Two 12VP185 2MWe generating sets for standby and peak-lopping duties at Thames Water's Ashford Common Water Treatment Works.
Haarman & Reimer Two containerised 12VP185 generating sets, built by Broadcrown of Stone circa 1996, for peak-lopping and co-generation duties at the UK's largest citric acid at Selby. The two generator sets together produce 3.2 MWe at 1,500 rpm.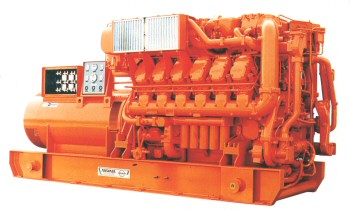 Rome Airport In spring 1994 a 2MW emergency stand-by generator set was ordered for Rome's Fuimicino Airport to provide power for pumping excess water from runways. The gen-set is powered by a 12 cylinder VP185, producing 2,163 kWb at 1,500 rpm, and went into full operational duties in December 1994. (1)

Dungeness 'A' Power Station Replacement stand-by generator sets at this well-known power station are to be driven by four 12 cylinder VP185s, each rated at 1,650 kWb.
---
References
1. CONNECT - A Newsletter for GEC ALSTHOM Diesels Ltd, No 3 Spring 1995, p.6.
Page updated: 31 MAR 2014