Paxman Ventura (YJ) Engines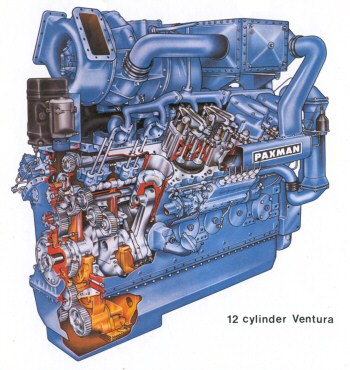 The Ventura or YJ engine was launched in 1960. Its 7¾" bore x 8½" stroke marked a major break from the long-established Paxman 7" bore x 7¾" stroke engine whose history could be traced back to the VRB of 1937. Technical details of the Ventura, and a history of its design, can be found on the page Paxman Diesel Engines since 1934.
Picture: Cutaway illustration of a 12 cylinder Ventura.
The first version of the Ventura was referred to by Development staff as the YJ1. Test running of the development prototype commenced in August 1958 and only two other YJ1 engines were built. These were 12 cylinder YJXL field trial engines, each developing 1,200 bhp at 1,500 rpm, which were installed in the Western Region diesel-hydraulic locomotive 'Majestic' (D830). Experience gained from trial running in 'Majestic' revealed a need to increase the width of the crankshaft's bearing areas. To meet this need the crankcase, as well as the crankshaft, was redesigned resulting in a slightly longer engine, the YJ2. All subsequent Venturas were basically the YJ2 design, generally referred to as the YJ.
The applications for which the Ventura was sold illustrate well Paxman's philosophy of designing and building high speed diesels suitable for a variety of purposes. The engine proved successful in military and civilian markets for marine propulsion, marine auxiliaries, rail traction and power generation. It was sold in large numbers to the British Royal Navy for auxiliary and main propulsion duties. The Royal Australian Navy purchased fifty one 16 cylinder YJCM engines for its Attack Class patrol boats. Ceylon (now Sri Lanka) Government Railways ordered no less than 82 YJs for rail traction - 4 x 8 cylinder, 63 x 12 cylinder and 15 x 16 cylinder. A total of at least 1135 Venturas were built - annual despatch figures are shown in the tables at the foot of this page. Although the highly successful Valenta, the Ventura's successor, was introduced in 1972, the last new Venturas were not despatched until 1992.
Page 157 of the Paxman Sales Engineers' Handbook of c.1967 (known as 'the blue book') gives a breakdown by engine type and customer of the 394 Ventura engines which were in service as at 31st May 1967. This information is reproduced in the first table below with supplementary notes from other sources. The figures do not, of course, include the many Venturas which entered service after May 1967.

(For an explanation of the notation system used by Paxman for identifying its various engine types go to the page Identifying Paxman Diesel Engine Types.)

Marine Propulsion:
Type
No off
Customer
6YJCM
1
Royal Navy.
6YJCM
4
H.M. Customs and Excise - for two twin screw Revenue Cutters: "HMRC Vigilant" built by Brooke Marine of Lowestoft in 1965, and "HMRC Valiant" built by Richard Dunston Ltd at Thorne, North Humberside in 1968. Each engine rated at 590 shp at 1,300 rpm continuous, 755 shp at 1,500 rpm two hours.
6YJXM
1
Pilot launch "Murshid", built for Kuwait Customs and Port Authority by Hugh MacLean & Sons Ltd of Renfrew. Engine developed 492 bhp at 1,500 rpm.
12YJCM
4
Trinidad and Tobago Coastguard. For two Fast Patrol Boats built by Vosper, "Trinity" and "Courland Bay", each with two engines, each engine producing 1,455 bhp at 1,500 rpm.
12YJCM
2
R.C.M.P. (Fort Steele).
16YJCM
2
R.A.F. - Recovery and Support Craft.
16YJCM
1
Canadian Hydrofoil - Canadian Defence Research Board.
(The 180 ton prototype FHE 400 (Fast Hydrofoil Escort) "HMCS Bras d'Or")
16YJCM
3
Royal Libyan Navy Corvette "Tobruk", built by Vosper Ltd of Portsmouth. Powered by two 16 cyl YJCMs each developing 1,900 bhp at 1,500 rpm.
16YJXM
2
J. Thornycroft, Royal Navy.
16YJCM
51
Royal Australian Navy - Patrol Boats. (Attack Class - two engines per boat.)
12YJCM
8
Patrol Vessels - Kenya Government.
16YJCM
8
Foreign Navy.
Marine Auxilary: (for Royal Navy engines see also Paxman and the Royal Navy.)
Type
No off
Customer
6YJXZ
8
Royal Navy. Probably for the Hydrographic Survey Vessels HMSs Hecla, Hecate and Hydra + spares.
6YJCZ
3
J. Thornycroft - Royal Navy.
6YJCZ
16
Foreign Navy.
8YJCZ
2
Indian Navy Frigate.
8YJCZ
4
Malaysian Frigate.
8YJCZ
6
Royal Australian Navy.
8YJCZ
4
Esso Tankers.
8YJCZ
38
Royal Navy Frigates. Probably for Type 12 Frigates - Rothesay and Leander Classes.
12YJCZ
20
Royal Navy.
12YJCZ
2
Royal Australian Navy.
12YJCZ
4
Esso Tankers.
16YJCZ
11
Royal Australian Navy.
16YJCZ
17
Royal Navy. Probably for County Class Guided Missile Destroyers.
Industrial:
Type
No off
Customer
6YJX
1
Lloyds Bank, London.
(for standby generator set, running at 1,500 rpm. Coupled to a GEC 380kW alternator.)
12YJC
1
B.O.A.C. Computer Hall.
12YJC
1
Lloyds Bank, London.
(for standby generator set, running at 1,500 rpm. Coupled to a GEC 935kW alternator.)
12YJC
1
Advertiser Newspapers Ltd. - Australia.
(Automatic standby generator set, running at 1,500 rpm. Coupled to a GEC 1,000kW alternator with Regulateurs Europa control gear.)
16YJC

24

(21)
British Government Dept. - Generating Sets.
For more details see 'Linesman Project' below.
Rail Traction: (see also Diesel Rail Traction page.)
Type
No off
Customer
6YJXL
11
British Railways Board - Southern Region, Electro-Diesels.
6YJXL
63
British Railways Board - Western Region. For 50 ton Type 1, Class 14, Diesel-hydraulic shunting and freight transfer locomotives. Locomotives built at Swindon. Engines rated 650 bhp at 1,500 rpm.
12YJCL
37
Italian State Railways. For Class D.343 Diesel-electric locomotives. Engines built under licence by Motori Breda, Milan.
12YJXL
8
Engines to power Railways-built 1,000 bhp Diesel-hydraulic locomotives. Ceylon Government Railways.
12YJXL
3
British Railways Board - Western Region, Type 4, Diesel-hydraulic locomotives.
12YJXL
21
British Railways Board - Scottish Region. For re-engining Type 2, Class 21, Diesel-electric locomotives originally fitted with MAN engines. After the Paxman engines were fitted the locomotives were redesignated Class 29.
16YJCL
1
Ganz-Mávag, Budapest - Prototype Diesel-electric locomotive.
TOTAL
394
Engines (as at 31.5.67)
The 'Linesman' Project
The table above shows that over twenty 16 cylinder Venturas were supplied to a 'British Government Dept' for generating sets. There were good security reasons for the Sales Handbook not being more specific about the customer. The engines were supplied to the Air Ministry in the early 1960s for the 'Linesman' project, a national air defence Distant Early Warning radar system. This comprised a number of long distance radar stations erected on secure RAF bases down the East Coast of the UK connected to a central command centre. The stations were provided with base load (rather than standby) diesel generating sets to ensure that they could be operated independently in times of emergency. It was also considered wise to be independent of mains power supplies as these tended to be unreliable in the rural areas in which the stations were situated.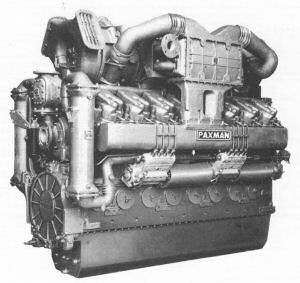 The radar system was required to operate continuously and even minor power supply interruptions were unacceptable, for example whilst standby generators were started up in the event of a mains power failure. Furthermore the military electronic equipment of the day was very sensitive to the voltage fluctuations inherent in mains power supplies caused by grid switching problems and lightning strikes. The types of electronic power backup and voltage smoothing systems available nowadays were not available then.
Photo: 16 cylinder turbocharged Ventura.
At first sight it might seem strange that high-speed Ventura engines were specified for the generating sets. Larger medium speed sets would have been cheaper and the more usual choice for base load (continuous) power generation. However, the original plan was that all the operating equipment should be located underground in nuclear bomb-proof shelters in which case the light weight and compact dimensions of the Ventura offered major advantages. It would be much easier to lower this engine down access shafts of restricted size, and to manoeuvre it underground, than a larger-sized and heavier medium-speed engine of equivalent power output. It is thought these considerations may have tipped the contract in Paxman's favour. In the event however the engines were installed in conventional surface engine houses. Presumably somebody had worked out that it was all very well protecting the power supply but the whole purpose of the system was to run relatively fragile radar equipment which by its nature had to be above ground and was likely to be the first thing destroyed by any bomb blast.
The first contract Paxman received was for fifteen generator sets, to be installed at three radar stations (five sets at each). The whole project was carried out under considerable secrecy and initially the identities of the sites only appeared as codes in Paxman records. Later, however, the Company's contract files showed them to be RAF Neatishead near Wroxham in Norfolk, RAF Staxton Wold near Scarborough in Yorkshire, and RAF Boot Hill near Alnwick in Northumberland. The last is now better known as RAF Boulmer. The order for this first batch of generator sets was received in November 1961 and given Paxman Contract Numbers 57008 to 57022. The sets were despatched between December 1962 and July 1963.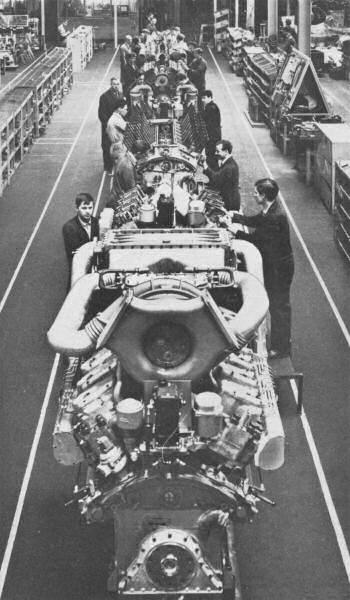 A second contract was for a further six identical sets for a fourth station, its identity initially undisclosed but later revealed to be RAF West Drayton. This was the command centre of the whole system. In addition to being an RAF site, West Drayton was the location of Air Traffic Control for Heathrow Airport and in this capacity may also have operated civilian radar systems. The second batch of generator sets was ordered in April 1963 and supplied under Paxman Contracts 57706 to 57711. They were despatched between March and July 1964 but did not stay long at West Drayton. One set was moved to one of the other sites in May 1965 and the other five were moved from April 1966 on. They were replaced at West Drayton with sets driven by Paxman YLC engines, although it is recalled that, for at least some time after, at least one Ventura set was installed at West Drayton as a standby set. I remember the late Denis Turner telling me about the problems experienced with the Linesman Venturas and saying that when it came to specifying the engines for West Drayton, Paxman persuaded the Air Ministry to use YLs which had already proved their reliability in base load generation applications, for example in Peru.
Photo: Ventura Engines in build in No 2 Erecting Shop - July 1965.
A total of 21 sets was supplied for the Linesman project and the figure of 24 given in the Paxman Sales Engineers' Handbook is incorrect. The error could have been made quite easily. The engines initially suffered various failures, as explained below, which resulted in sets having to be returned to the factory to be rebuilt before being despatched again. Don Meiklejohn says some contracts were despatched more than once, with different new engines, and some contracts were despatched with rebuilt engines previously despatched under different contracts.
Paxman's customer was Crompton Parkinson of Chelmsford who handled all electrical aspects of the contracts and supplied the alternators to Paxman as free issue. The alternators were of an 11 kV type and were rated at 1,200 kWe at 1,500 rpm. The engines themselves were nominally rated at 2,000 bhp at 1,500 rpm but in some parts of the contract they were also rated at 1,950 bhp. In addition to the alternator they were also driving Serck-Behr hydrostatic pumps to drive the radiator cooling fans and the engine room air supply fans which were also Paxman supply along with various other items of engine room equipment such as fuel daily service tanks, lubricating oil supply tanks and used lubricating oil drain tanks.
These were very early examples of Ventura engines (indeed the first engine was only the second 16 cylinder engine supplied to a customer) and they were almost the only Venturas to be supplied for 1,500 rpm continuous running. Major reliability problems were experienced, especially during the early days of operation, with many engine failures and rebuilds. Engines were failing and being rebuilt, prior to completion of the original build contract, to such an extent that some sets were despatched with repaired engines as the new engines designated for them had already been despatched to replace engines which had failed on earlier sets. Dave Cardy, later to become Paxman's Chief Development Engineer, considers the high failure rate was mainly attributable to running the engines continuously at 1,500 rpm. He believes many of the difficulties could have been avoided by running them at 1,200 rpm; a more suitable continuous running speed for the Ventura. Problems experienced with the 'Linesman' engines included:
The air-cooled crankshaft torsional vibration dampers were found to overheat which shortened their life and resulted in crankshaft failures. To overcome the problem the arrangement was redesigned so that the damper was cooled by lubricating oil within the free end cover. The crankshaft was also strengthened with thicker webs. Later on, crankshafts were further strengthened by changing from an induction-hardened to a nitride-hardened design. In order to reduce crankshaft stresses the engine firing order was also changed, which necessitated changing the valve-operating and fuel pump camshafts along with all the exhaust manifolding;
The original fabricated crankcases proved prone to fatigue cracking in a number of places and, whilst over the years there were many changes in the design and in manufacturing methods to alleviate the problems, the Linesman engines were rebuilt in the 1970s with a later design of cast-iron crankcase;
The original aluminium cylinder heads proved prone to major problems with valve seat inserts coming adrift and bottom deck fatigue cracking. The aluminium heads were replaced with a much more reliable cast-iron design in the late 1960s;
The original large end bearing blocks had a chrome-plated outside diameter and they proved susceptible to cracking problems. They were replaced by the stronger nitride-hardened type after these were introduced in the 1970s.
Initially a number of engines came back to Paxman for repairs and the Company had a heavy on-site service involvement at each radar station. Once the sets were out of warranty the Air Ministry organised their own maintenance through what was then the Ministry of Public Buildings and Works, later the Department of the Environment. The engines were overhauled at the main MPBW engine overhaul facility at RAF Burtonwood situated just outside Warrington. The relatively light weight and compact size of the Ventura made it easier to move engines around the country for overhaul at a central location rather than to carry out this work at the radar stations.
At Neatishead is the RAF Air Defence Radar Museum which is open to the public - for details see www.radarmuseum.co.uk.

HMCS Bras d'Or
The Canadian Navy's FHE 400 (Fast Hydrofoil Escort) has been dubbed the world's fastest warship. Laid down in 1963, launched and commissioned in 1968, it achieved a speed of over 60 knots during sea trials in 1969.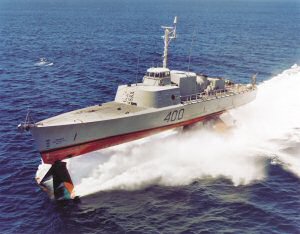 The plug was pulled on the project in 1971, because of its cost, and Bras d'Or was decommissioned in November that year. Of aluminium construction and weighing 180 tons, the 151' long craft is now on display at the Maritime Museum of Quebec.
For main propulsion at lower speeds, in 'hull borne' mode, the vessel was fitted with a 16 cylinder Ventura engine. The drive from this engine was taken to two 84" diameter, 3 bladed, controllable pitch propellers in the rear foil struts via a dual output gearbox, down shafts, and an outboard gearbox. When foil-borne the diesel-driven propellers were clear of the water but feathered to minimise wave impact loads.
Bras d'Or's 16YJCM was the first to be built with a revised firing order, a change made to improve the engine's torsional vibration characteristics in the light of previous operational experience. It had a sprint rating of 2,400 bhp at 1,500 rpm and a continuous rating of 2,000 rpm at 1,500 rpm. This might prompt the question: how can an engine have two substantially different power outputs at the same engine speed? The explanation lies in the fact that the engine was driving controllable pitch propellers and thus was not operating at constant torque. It is interesting to note that the normal sprint rating for the Ventura, when it later became capable of higher speeds, was 10% on top of the continuous rating, which in this case would have been 2,200 bhp. It was quite exceptional to agree the 2,400 bhp rating which Paxman records show was signed off by Roy Dingle, the man who led the Ventura's original design team. Such an exception was made for the Bras d'Or because this maximum power would only be required for very short periods while the vessel was moving from hull borne to aerofoil borne mode. The 2,400 bhp rating was limited to a maximum of 15 minutes in any six hour period. At 23 knots the foils lifted the hull clear of the water and a 22,000 shaft horsepower Pratt & Whitney gas turbine took over as the main propulsion prime mover.
The March 2006 issue of Western Mariner, a Vancouver-based magazine, published an article about the Canadian Institute of Marine Engineers attempts to find funding for the preservation of Bras d'Or's Paxman Ventura engine. At the time it lay in Cummins Diesel's yard at Montreal and the Maritime Museum of Montreal had declined to accommodate it. The CIMarE aimed to raise sufficient funds so that the engine could be put on permanent display in another museum but efforts to save the engine proved unsuccessful. In 2008 the CIMarE confirmed that it had tried for 4 or more years to find a home for the Ventura but as no college, company, museum or collector was willing to take it there was no alternative but to sell it for scrap.

Ventura Engine Despatch Records
The first production Venturas, three 12 cylinder types, were sent out in 1960. The last two new Venturas to be built were despatched in 1992. Paxman ceased actively selling the Ventura in the 1980s. All subsequent sales of the engine were follow-ons from previous contracts, or were for customers who were operating other Venturas, or were spare engines for earlier contracts.
The table below shows the numbers of Ventura engines despatched each year, broken down by 6, 8, 12 and 16 cylinder types. The figures are taken from Engine Despatch Records held by Paxman at Colchester. The Company's records also break down the figures by method of aspiration but only 16 Venturas were naturally aspirated, 11 x 12YJ and 5 x 16YJ. All others were pressure charged. The tables below relate solely to Colchester-built engines. They do not include the thirty seven 12YJCL engines built under licence by Motori Breda of Milan for Italian State Railways D.343 Class locomotives. With these the total number of 12 cylinder Venturas comes to 463, and the overall total to 1135.
The figures in the Marine Propulsion column of the tables below include those engines for diesel-electric arrangements, i.e. essentially power generation duty. Where no figure for despatches of a particular cylinder variant is shown in an individual year, no variant of that type was despatched that year.
Year
Despatched
Number of
Cylinders
Industrial
Power
Generation
Marine
Propulsion
Marine
Auxiliary
Rail
Traction
TOTALS
1960
12
3
3
1961
12
1
1
16
1
1
Total Number of Venturas despatched in 1961
2
1962
12
1
1
16
1
1
Total Number of Venturas despatched in 1962
2
1963
6
15
15
12
1
1
16
14
14
Total Number of Venturas despatched in 1963
30
1964
6
2
41
43
12
1
4
1
6
16
6
4
10
Total Number of Venturas despatched in 1964
59
1965
6
1
6
6
13
12
13
2
5
20
16
3
4
7
Total Number of Venturas despatched in 1965
40
1966
6
1
1
3
5
10
8
7
7
12
1
6
15
22
16
33
1
34
Total Number of Venturas despatched in 1966
73
1967
6
2
2
7
11
8
34
34
12
1
3
7
7
18
16
31
5
36
Total Number of Venturas despatched in 1967
99
1968
6
10
10
8
1
11
12
12
1
2
7
30
40
16
1
6
3
6
16
Total Number of Venturas despatched in 1968
78
1969
6
1
7
8
8
5
10
4
19
12
1
8
11
16
36
16
7
9
9
25
Total Number of Venturas despatched in 1969
88
Year
Despatched
Number of
Cylinders
Industrial
Power
Generation
Marine
Propulsion
Marine
Auxiliary
Rail
Traction
TOTALS
1970
6
4
1
5
8
11
11
12
7
6
10
23
16
3
5
8
Total Number of Venturas despatched in 1970
47
1971
6
1
3
4
8
5
2
19
26
12
1
11
16
28
16
13
13
Total Number of Venturas despatched in 1971
71
1972
6
1
1
8
2
8
6
16
12
3
1
23
27
16
2
8
18
28
Total Number of Venturas despatched in 1972
72
1973
6
1
4
5
8
10
12
22
12
12
19
12
2
45
16
2
10
9
21
Total Number of Venturas despatched in 1973
93
1974
6
1
1
12
5
46
13
4
68
16
2
9
11
Total Number of Venturas despatched in 1974
80
1975
6
4
4
8
2
2
12
7
4
6
17
16
1
8
3
12
Total Number of Venturas despatched in 1975
35
1976
6
5
5
8
1
1
12
2
22
24
16
10
3
13
Total Number of Venturas despatched in 1976
43
1977
8
2
2
12
7
6
13
16
3
7
10
Total Number of Venturas despatched in 1977
25
1978
6
1
1
8
2
2
4
12
2
4
6
16
17
17
Total Number of Venturas despatched in 1978
28
1979
6
1
1
8
2
4
6
12
5
2
2
9
16
15
15
Total Number of Venturas despatched in 1979
31
Year
Despatched
Number of
Cylinders
Industrial
Power
Generation
Marine
Propulsion
Marine
Auxiliary
Rail
Traction
TOTALS
1980
6
3
3
8
6
5
11
12
3
2
2
7
16
14
14
Total Number of Venturas despatched in 1980
35
1981
6
2
2
8
2
2
12
2
2
16
2
12
14
Total Number of Venturas despatched in 1981
20
1982
8
2
2
4
12
1
1
16
1
6
7
Total Number of Venturas despatched in 1982
12
1983
8
2
2
12
1
2
3
16
4
4
Total Number of Venturas despatched in 1983
9
1984
8
5
5
16
1
1
Total Number of Venturas despatched in 1984
6
1985
12
2
2
16
1
1
Total Number of Venturas despatched in 1985
3
1986
12
2
2
1987
8
4
4
12
1
1
16
2
2
Total Number of Venturas despatched in 1987
7
1989
6
1
1
1991
6
2
2
1992
6
2
2
TOTALS
17
88
338
476
179
1098
Despatch Totals by Cylinder Variant and Application
Number of
Cylinders
Industrial
Power
Generation
Marine
Propulsion
Marine
Auxiliary
Rail
Traction
TOTALS
6
6
15
52
74
147
8
5
8
36
137
4
190
12
10
49
159
123
85
426
16
2
25
128
164
16
335
TOTALS
17
88
338
476
179
1098
Acknowledgement: I am heavily indebted to Don Meiklejohn, Technical Support Engineer, MAN Diesel Ltd, who researched and provided detailed information on Ventura engines supplied for the Linesman project and provided copies of Ventura Engine Despatch Records.
© Richard Carr 2008
Page updated: 29 OCT 2008