SLM Modern Wheel Drive Gearboxes
Introduction
The story of Modern Wheel Drive Limited (MWD) and its gearboxes is told on this page in two sections.
The first section, written by the late Tony Marvin, covers MWD's history up to the end of World War 2 but first one should explain the connection between MWD and Paxman. All British-built diesel-engined Tank Landing Craft in WW2 were powered by Paxman 12 cylinder TP engines, with the drive to the propellers being through MWD reduction gearboxes. These boxes were made under licence by Ruston & Hornsby at Lincoln, which acquired the controlling interest in Paxman in 1940, and by MWD at Slough. For many years after the war, Paxman continued to source gearboxes from MWD for use with some of its engines supplied for marine propulsion.
Tony Marvin was uniquely qualified to tell the story up to 1945. At the start of the War he was working at Ruston where he tested some of the very first Paxman TP engines and built MWD boxes. He then moved to MWD's Slough factory where he was responsible for gearbox assembly, also going out on field trials and service assignments. He remained with MWD until the end of the War and his account gives a good flavour of the hectic pace and demands of wartime manufacturing.
Immediately after the War Tony moved to Australia to become a Ruston-Paxman Service Engineer. When he wrote the piece below he claimed to be 'well retired'. Nevertheless, as late as 2001 he started the major restoration of a 1912 Paxman gas engine found in the Australian bush, a task involving among other things the machining from scratch of a new cylinder liner. He had successfully tracked down other old Paxman engines in Australia and was a valued regular contributor of information to this website.
For the second section of this page we are indebted to John Cove. His credentials for the task include close personal experience of MWD and its products from both sides of the fence. For part of his career he worked in senior positions at Paxman when it was a regular MWD customer. Subsequently he was appointed as General Manager of MWD. John has provided a valuable and interesting insight into the challenges facing MWD during the 1950s and 60s and the events leading to its transfer to Rugby.
Richard Carr
---
THE TANK LANDING CRAFT PROJECT
WORLD WAR 2
Davey Paxman & Co Ltd, Ruston & Hornsby Ltd, Modern Wheel Drive Ltd,
and associated equipment manufacturers.
The SLM Modern Wheel Drive Story
by Tony Marvin
'Whilst I still remember'
(Year 2003)
PART 1


The Schweizerische Lokomotiv- und Maschinenfabrik AG (SLM)
Winterthur, Switzerland

The Swiss Locomotive & Machinery Works was founded in 1871. I am not conversant with the early SLM history so cannot give details of any other dates or major events.

Their manufacturing covered locomotives - main line, shunting, and rack (steep ascent, on which they were specialists) - all in steam, petrol and diesel propulsion; rail coaches; vertical diesel engines from 50 to 3,000 HP, and horizontal diesels of 20 HP and upwards; marine engines both for slow speed propulsion and normal speed auxiliaries; gearboxes - marine and rail; rotary compressors; vacuum pumps; blowers and gas boosters.

The company's English agents were B A Holland Engineering Co Ltd of 18 Victoria Street, London, later called Holland SLM.

At sometime in the 1920s the company of Modern Wheel Drive Ltd was formed at the same address with marketing and manufacturing rights. There was a licence agreement giving MWD the territory of Great Britain and the then British Empire to the exclusion of SLM itself. SLM would look after the rest of the world excluded from MWD's patch.

At that time Holland/MWD did not have a manufacturing capability so the gearboxes, then all marine, were made under licence by Ruston & Hornsby Ltd of Lincoln and also I believe by Allens of Bedford, for use with their own engines in small ships, trawlers, tugs etc. Other large engine builders may also have done similarly.

As I remember, the David Brown Co of Huddersfield made three different types of reverse reduction gears for Thornycroft motor torpedo boats. These were the type AT11, a single engine drive straight through 1 : 1 drive, the AT12 single engine return drive under the engine, and the AT10 a twin engine drive into each end of the box with return under one engine, a reduction incorporated at the same time. These gearboxes were coupled to Thornycroft RY12 600 HP vee 12 cylinder petrol engines.

To return to the development (historical) of the oil operated gearbox, the story goes (according to one of the Swiss people I worked with at MWD) that it was originally developed and perfected in the garage of SLM at Winterthur for use on commercial vehicles, buses, garbage trucks etc. A then natural progression was to develop it for small locomotives, larger locomotives, followed by marine applications and so on.

Ruston & Hornsby used some MWD boxes on one of their shunting locomotives until they developed their own design of hydraulic gearbox.

Many years later I came across an MWD reduction drive on a steam turbine sugar mill application.
PART 2


How The SLM / MWD Gearbox Works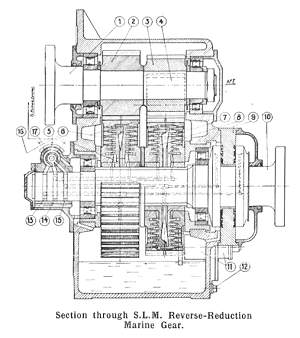 For most marine applications the gearbox consisted of an input primary shaft and a secondary output with an idler gear between for reverse, the reduction incorporated at the same time. The secondary steel gearwheels were hollow and contained aluminium bronze multi-cone clutches. These clutches were expanded hydraulically, oil pressure being supplied through passages drilled in the secondary spline shaft. A control valve and primary driven oil pump supplied oil through a bush at the free end, three passages in all, one for ahead gear, one for astern, and one for neutral.
The neutral pressure was always present, ready to disengage the moment oil supply was cut off to the engagement port.
On the Tank Landing Craft Mk 4 and the Mk 8 twin engine drive gearboxes the reduction drive was l.38 : 1 ahead and l.39 : 1 astern.
The craft were twin and three screw (propeller) vessels. There were times therefore when propulsion took place under power of one screw only, the other engines idling in neutral or shut down mode. In both cases these propellers would be trailing, i.e. rotating freely against the water as the craft was moving ahead. In this situation, as gearbox oil pressure is only available when the engine is running (no oil pressure when the engine is stopped), the clutches could float into engagement - even both ahead and astern at the same time - an undesirable condition at any time !! To counter this the gearbox had a small oil pump driven by the secondary shaft, to provide constant oil pressure and hold the clutches in neutral.
All propeller thrust, both ahead or astern, was taken in the gearbox on white metal thrust faces. Double row angular thrust ball bearings were used on the Landing Craft and taper roller bearings on the Torpedo Boats. The ball and roller types had a pre-load setting when assembled and a thrust load of 5 tons was always applied when on the test bed.

PART 3


Manufacture

I guess as early as 1941 plans were being conceived for the allies' re-entry into Europe. This must have been a terrific task. Craft of many types and sizes were needed for duties never even thought of before. One was the Tank Landing Craft which with its later modifications filled a multitude of roles.

The propulsion machinery for these was to be the Paxman 12TPM which employed the Mk 4 MWD marine gearbox, fully designed in England for the purpose.

Ruston & Hornsby of Lincoln, with existing know-how on making the MWD gears, started manufacture in 1941. Two Paxman 12TPs were rushed to Lincoln works and gearbox test beds set up. The first Mk 4 was shipped in mid-1941. From then on roughly ten to twelve boxes per week were produced. The testing time for two units covered 24 hours (air raid or no air raid), seven days a week !


Left: No 3001, first box built at Slough.

Above: No 3001 on test at Lincoln in 1942,
with two Paxman 12TPs visible.
This quantity was probably not sufficient to meet the requirements as Tank Landing Craft were being built in every available yard, slipway or suitable spot around the coast of England, Scotland, and Wales.
The writer was at several yards when load and basin trials were being conducted. One visit was to Inveraray on Loch Fyne on the west coast of Scotland in the middle of winter (January 1943 - very, very cold !) to investigate an oil contamination problem caused by excessive condensation. At this time exercises were being conducted trialing the loading and unloading of tanks under similar conditions, I guess, to the Fjords of Norway. I seem to remember a raid was made later at Narvik.
To increase production was imperative. It was also the time for MWD to seize the opportunity to set up their own manufacturing plant. They had a small establishment already on the trading estate at Slough, Buckinghamshire, used for the assembly of rotary compressors, and vacuum pumps for railway braking systems. So, with the acquisition of some adjacent buildings, this was to be it !
Administration offices and the drawing office were moved to Springfield Avenue, Chesham, a few miles away and later to a much larger country house at Lindo Lodge, Chesham.
In April 1942 the writer moved from Lincoln to Chesham and then to Slough. From some parts we made ourselves, together with sub-assemblies from other MOS (Ministry of Supply) factories, the first Mk 4 gearbox, No 3001, was built and sent to R & H at Lincoln for test. This was followed by No 3002 on the 8th of August. In the meantime a test facility was being fabricated, using electric motors, for both the Mk 4 and Mk 8 gears at the Slough plant.
By mid-1945 production at the Slough plant averaged twenty Mk 4 and six Mk 8 gearboxes per week. The labour at the time was mostly dilutee (i.e. semi-skilled or unskilled) both in the machine shop and assembly bay, some of them already nearing retirement age.
At the beginning of the Slough project the main personnel were: T Hindmarch, Managing Director; J Ribbons, Chief Draughtman; Hans Greub, Chief Engineer; Walter Zehnder, Works Superintendent; Albert Casagrande and Seigfried Eggstein responsible for assembly, etc. The last four of these were from the SLM works in Switzerland. They were in the UK at the outbreak of hostilites and unable to return home. They did not actually get back until 1948 ! That was when the MWD Company had managed to progress from a wartime effort to a peace time business.
As setting up progressed in 1942 more machinery was installed, i.e. extra large lathes, gear cutting machines, a large press, heat treatment, etc, etc. The staff also increased. Mr J Chisholm (ex R & H Ltd) became Works Manager, succeeded by Mark Casey; E Snow, Machine Shop Foreman; P Warner, Toolroom Foreman; M McDonald, Rate Fixing; Tony Marvin, Assembly and Service.
The Mk 8 twin engine input gearbox was wholly designed and built at Slough. It was for a larger size Landing Craft with a twin screw, four engine, installation. To be confined in the engine room with engines at full throttle (no separate control room), and only cotton wool for ear protection, was a nerve shattering experience !!

Input side (left) and output side (right) of Mk 8 twin gearbox on test at MWD's Slough works.
---
In mid-1945 the writer suffered an eye injury, ending up in the Windsor hospital for 8 weeks. Later in the year, when the war was over, he returned to Ruston at Lincoln. From there, in May 1946, he was despatched to Ruston & Hornsby, Australia !
His first assignment in Melbourne was to inspect a number of Ruston 6VCBM marine engines together with MWD/SLM gearboxes which had been made in Australia under a wartime licence. These were a surplus to be shipped to the UK where R & H had a ready market for them. I found out later there was some friction regarding the gearboxes. They had been made by a firm called Coote & Jorgensen in Sydney, probably from Ruston drawings, without any official permission or licence from MWD to do so. Things were a bit slack in those days - there was a war to win !
Modern Wheel Drive Ltd
1946 and After
In the late 1940s and during the 1950s MWD expanded somewhat, acquiring a new plant on the Bath Road in Slough. The Company continued on into the 1960s.
Takeover Years !
In 1966 Ruston and Paxman were taken over by the English Electric Company. Shortly after, in 1968, that conglomerate was taken over by the General Electric Company (of Great Britain) … but that is another story ! Modern Wheel Drive was also absorbed into GEC. The Slough plant was closed and sold. Anything left, so I was told, went to GEC Rugby. I am not aware of any gearboxes being built at Rugby though they could have been.
SLM in Switzerland may still continue to make this remarkable design of gearbox for mechanical locomotive requirements and possibly marine applications. But SLM has been absorbed into the Sulzer Group and may therefore have to play to a different drummer !
It is now the year 2003
Many of the players of the very early Slough MWD/SLM days have passed on to their happy hunting grounds !
Hans Greub on his return to SLM Winterthur became a Director of the company. Walter Zehnder stayed on at Slough until the company was sold, after which he retired in the UK. Albert Casagrande is very much retired, living in Winterthur, as is Siggy Eggstein.
I am 85 years and well retired in Australia.
That's it …   TONY MARVIN
© Tony Marvin and Richard Carr 2003
---
Modern Wheel Drive Ltd - Post War
by John Cove
MWD boxes lent themselves well to the many tugs, fishing vessels and small coastal ships needed immediately post war. The design was good and well proven and they were robust and reliable in service. For these, and indeed historical, reasons MWD gears were virtually standard for Ruston and Paxman engines in such applications for many years. However they were made on ageing machinery in rented factory space on the Slough Trading Estate with several workshops involved and the Head Office was at Chesham which was over 30 minutes drive away. Gearboxes were run up light at Slough by electric motor to ensure that they worked but they never took full load until tested with the engine at the engine builder's works.
Appointed Quality Engineer at Paxman in 1953, I was responsible among other things for the approval or otherwise of engines and gearboxes on final test. It has to be said that it was common to have to rectify, usually minor, problems with MWD gears, chief of which was the frequent presence of swarf and dirt in the gearboxes, indicative of lack of quality control at Slough. Such work further delayed despatches already made late by late delivery of the MWD box.
Later on, as Chief Diesel Engineer at Paxman in the late 1950s, these problems led me to instruct our Chief Marine Applications Engineer, Norman Wadley, to seek out alternatives especially for the smaller vessels. The latter tended to be the ones using Paxman engines and we used some boxes of German origin which were found to be perfectly satisfactory.
The introduction of the powerful, lightweight Ventura range of engines (launched in 1960) prohibited the use of MWD boxes as the box they offered for the Ventura was almost as big and probably heavier than the engine and was very expensive. We therefore decided that the standard gearbox for the Ventura in fast marine applications would be the German ZF box. This did not go down at all well with Tommy Hindmarch who ran MWD.
Some time later I was Marketing Director of Paxman, when, following the takeover of our Group by English Electric (in 1966), I received a request from EE's management to write a paper about MWD. In view of the way later events involved me I have kept a copy of this memo. Since it says all that we knew about MWD at the time I give the full text below. It should be noted that when I wrote this we had a shrewd idea in Colchester that English Electric were contemplating taking over MWD but it never crossed my mind that I was going to get involved with this company myself!
"27th June 1967.
At our last Board meeting you asked me to let you have our comments on MWD as a company and some notes on their products.:-
THE COMPANY
MWD for a number of years held the British market for marine gears virtually unchallenged. This, however, unfortunately induced a state of complacency and they became rather unsatisfactory suppliers in terms of quality, workmanship, and delivery. This, coupled with the unorthodox way in which the Company has been run, produced among engine builders a unanimous opinion that alternative suppliers were essential.


Consequently, MWD's competitors received considerable encouragement to progress and a number of Continental and to a lesser extent some British suppliers have now overtaken MWD in the design and pricing of their products and in service to their customers. Despite this, there are no signs even now that they are willing to make an effort to hold their own as with their conservative and robust designs they are probably sure of a steady, if not an expanding, market in the heavier duty type of application, and they are apparently content to accept this position rather than strive to enter into a wider market and expand their company accordingly.
TECHNICAL
Two basic features of the MWD design simultaneously prevent their gearboxes from being reduced in size and price and also limit the torque carrying capacity of their boxes. These two features are the design of the clutches and the gear wheels. The clutches used are the SLM type which are mounted within the gear wheels and rely on the matching of sintered bronze serrated faces. These faces are costly to machine and although they can stand up to heavy duty operation they are limited in clutch engagement speeds compared to continental designs which use external plate type clutches which can be bought as standard units from manufacturers such as Ortlinghouse and which by using multiple plates can reduce the clutch dimensions for a given load.


With regard to the gear wheel design, their wheels are necessarily large because of the internal clutches and this is perhaps one of the reasons why MWD have not introduced gear tooth hardening which would reduce the face width of their gear wheels, which is substantially more than that of their competitors. Both the weight and price of their gearboxes are adversely affected by the size of the wheels.


The MWD box employs sleeve type bearings whilst most Continental gears employ ball and roller bearings. The use of ball and roller bearings reduces the dimensional size of the boxes but I would not wish to give the impression that Paxmans consider that ball and roller bearings are necessarily a completely acceptable feature in marine gearboxes. For light weight high speed craft their use is inevitable, but for more heavy duty applications many customers prefer to retain sleeve type bearings because ball bearings have been known to give trouble on applications which involve carrying propeller thrust.


For reasons mentioned above, Paxmans have in recent years used MWD gearboxes only when specifically requested by the customer. We have from time to time discussed with them the possibility of designing gearboxes suitable for the Ventura engines but whilst Mr. Hindmarch always agrees that MWD could do this they have never been prepared to design beyond their original concept of SLM clutches and soft gears, and consequently their proposals are completely out of proportion in dimensions and weight to their continental competitors. A typical case of this was the 6 cylinder Ventura engine we supplied to the British Customs and Excise, who felt compelled to insist on British boxes. The MWD box cost twice the price and was approximately twice the weight of its continental competitor.
WORKMANSHIP
It is unfortunately true that while the MWD gearbox is a very good product technically, and recognised as such world wide, we have almost always been involved in some rectification work on the test bed as a result of poor workmanship on the part of MWD before the box can be considered to be in proper working order and ready for despatch.


MWD put a lot of blame for this on the facilities at their old factory and say that now they have moved to their new factory their production and delivery position will be much better, but Paxmans have not yet put this to the test.
DELIVERY
No write up on MWD would be complete without a scathing reference to their consistently bad performance on delivery. They seem quite incapable of adhering to any delivery they give, and I believe that it is true to say that we have never executed an order using their boxes without running into major trouble due to late delivery which has frequently got us into very bad odour with our own customer.
I hope the above brief comments give you the information you desire."
Shortly after I had written this we learned that EE had taken over MWD. I was summoned and told that I was to be moved to Slough to take over from Tommy Hindmarch and become General Manager of MWD. He had built up MWD from scratch and must be given full credit for what he had achieved, but he still ran the company as his personal property, taking all major decisions himself, so this was clearly not going to be an easy task.
I had not seen him for a year or so since a time when I visited the MWD room at the Institute of Marine Engineers conversazione in Grosvenor House at about 2am, finding Tommy well into the spirit of things. As soon as I came in he turned on me and, surrounded by customers, engine builders and suppliers, started telling me off in a very loud voice about buying gearboxes from Germany, adding that I would probably be buying them from ******* Woolworth's next! I replied that we would buy from him if he came up with the right product at the right price and on time, and left the room.
The next time I met him was when I was taken to Slough to be introduced as the person who would be running his company in the future, so I wondered what sort of reception I was going to get! However he greeted me like an old friend and we spent a day together when he introduced me to all the staff.
He was very sad when the moment came to leave and one could well imagine how hard it must have been to hand over to someone else a Company he had built from scratch. I never saw him again as he retired to the Caribbean. It had already been agreed that, as his style of management was somewhat unorthodox, he would leave on a Friday and I would come back on the Monday and take things as I found them.
He asked me if he could leave his Rolls-Royce in its garage at the factory because he was going abroad. He added that I was free to use it at any time and one of the men from the workshop who used to drive him around would drive me wherever I wanted to go. Tempting though this was I decided that it would not be a good career move to be seen in a Rolls when all my superiors were driving mass produced cars, so the Rolls remained in the garage until it was finally removed when the factory was sold!
The first task was to see what sort of organisation I had inherited. Most people seemed to have reported direct to Hindmarch but some had other lines of reporting as well, some of which probably stemmed from the fact that the main office used to be over 30 minutes drive from Slough. This meant that many executives would have had to check with Hindmarch at frequent intervals when decisions had to be made and more delegation would now be necessary. Here I was fortunate to have Mrs J Wood who had risen to become Hindmarch's personal assistant and a Director of the Company. EE were somewhat taken aback after acquiring MWD to find that for the first time one of their companies had a female Director. Her knowledge of the people and how things came to be as they were was an enormous help to me as I made various changes towards a more conventional organisation structure.
The technical side of the company is well covered in my notes to EE, reproduced above, and I knew that within their established design parameters the company would have no problems continuing to produce gears to meet customer requirements. Nor were there any problems with the Sales force which was led by Peter Donnison, Sales Director. They were well known and respected throughout the shipping industry.
The chief problem was the almost complete lack of any conventional cost information. It appeared that Hindmarch had been in the habit of setting gearbox prices according to a special formula he had arrived at over years of experience and which he seemed to have kept to himself. It was apparently based mainly on the output shaft diameter and the number of gearwheels, plus some inspired guesswork. Until we could produce proper costings therefore we could quote with reasonable confidence only for the same types of gear we had made in the past but we had great difficulties in arriving at selling prices for anything appreciably out of the normal run.
Matters were complicated by the fact that EE was a very centralised organisation, based on their office in the Strand, and expected monthly financial reports in considerable detail. We simply did not have the means of providing these figures. Clearly therefore, strengthening the cost accounting side of the Company had to be a priority but this would also require better systems in the workshop for feeding back details of manufacturing costs. This was going to take time.
There were also problems on the works side as MWD had only just moved into a nice new factory in Bath Road, Slough. I always thought that Tommy Hindmarch had made the move at least partly with an eye to the ultimate sale of the business as the old workshops on Slough Trading Estate would have been pretty unappealing to any prospective purchaser. Most, if not all, of the machines had been moved into the new factory but the layout had not been given too much thought. Work in progress involved much unnecessary movement of materials so further changes were needed in the layout of the works. Furthermore many of the machines were old.
At this time EE took over the gear business of Alfred Wiseman, who were unknown in marine gears but were suppliers of industrial and rail traction gearboxes, particularly to London Underground. EE thought that this would give MWD a new foothold in industrial gears. Wiseman's factory was sold off and the Wiseman operation transferred to MWD in Slough, which brought us some useful machines and some new members of staff, but almost no extra business.
At this time several engine builders, including Ruston, were developing medium speed engines capable of powers up to about 10,000hp and these were being used in merchant ships with two such engines coupled to a single shaft via the gearbox. This seemed to be a growth area in an otherwise fairly static industry and therefore MWD did not want to miss out on this market although it involved gearboxes much larger than any we had done before, with wheels around 10' diameter.
Our Swedish agent received an enquiry for six gears of this size from a Swedish shipyard and we were very keen to obtain the order. Apart from the fact that MWD had never made such gears there were other problems. Our German competitors had got the shipyard to include in the specification the requirement that the gears should be cut to Class A tolerances. In vain we pointed out that such tolerances were quite unnecessary for gearing driven by medium speed diesels but the customer was adamant so it had to be Class A or nothing.
We had an excellent gear hobbing machine which Hindmarch had bought but never used which could cut gears of the required diameter. It was in a room of its own to keep temperatures constant and eliminate stray draughts which might affect accuracy. Mr Jeffrey, our very able expert in charge of gear cutting, advised that it could cut to class A standards but not if it was left standing as it was on a concrete floor about a foot thick over the unstable soil on which Slough is built. We therefore decided to quote for class A gears and I immediately had the machine hauled out of the shop so that proper foundations could be laid. We dug down 15 feet until we reached solid ground, then filled the hole with concrete and remounted the machine. We got the order but as the last MWD box supplied to that shipyard had been delivered very late we had to accept an exceptionally severe penalty clause for late delivery.
The gears were to take two engines of 4000hp each, driving through hydraulic couplings into a main wheel about 9' or 10' diameter. No reverse was called for as a CP propeller would be used, but there were two power takeoffs at the aft side of the gearbox to drive generators while at sea, so it was not a simple design. The main thrust bearing was a Michell bearing capable of taking 100 tons thrust. Delivery was tight and I made our Technical Director, Ian Wans, the Project Engineer in charge of this major contract. With guidance from Ian Wans, our Chief Designer R Kirton designed the box to the usual MWD standards for heavy duty.
Forgings and fabrications had to be bought out and were a major source of concern but Ian's efforts ensured we got them in on time and he coordinated all aspects of procurement.
The gear cutting went smoothly although cutting the teeth on the main wheel took several days non-stop during which time our main worry was the possibility of a power cut as any interruption was not allowable if the end result was to be class A teeth. On completion each gearbox weighed 60 tons and was several times bigger than anything MWD had ever previously made. As the works only had 25 ton cranes we had to haul it out into the yard and hire a mobile crane to get it onto a low loader. Then it had to be taken to Tilbury in the middle of the night on an agreed route with a police escort.
While all this was going on production of gears of the more traditional MWD type continued and both quality and delivery times showed good improvements over past performance.
The first of the huge gears was delivered on time but this whole exercise had clearly revealed the limitations of the new factory and indeed the difficulties involved in trying to manufacture such items in Slough. Although we had some space in which we could have added a larger assembly bay, there was no local availability of additional skilled labour of the kind we needed, while the housing problem precluded recruiting from elsewhere. It seemed therefore that the developing future market demand would be for gearboxes much larger and heavier than we could produce in our new factory in Slough and yet the future expansion of the marine business seemed to hinge on such large gears.
At about this time the Group took over AEI who had an under-used gear making facility at Rugby with heavy craneage and good machinery and some industrial, but little marine, gear experience. In these circumstances it was probably inevitable that the Group (by this time GEC) should sell off the Slough factory and seek to move the whole MWD operation to Rugby. The difficulties we encountered in making such large gearboxes in the Slough factory probably hastened the decision and although some personnel moved to Rugby the close knit MWD team was broken up before we could fully demonstrate how much progress had been made at Slough since EE had acquired MWD.
I do not know to what extent it proved possible to rebuild a marine gear business at Rugby, let alone one that could in any real sense be regarded as a reincarnation of MWD. Nor can I say how many boxes to MWD designs were made there as I played no part in the move to Rugby. Indeed I am not even certain whether the last of the large boxes on the Swedish contract were made in Slough or Rugby since before we had built them all I left Slough. I was recalled to Ruston Paxman Diesels in 1969, at a time when they were experiencing very serious problems with the Ruston AO medium speed diesels which were causing delays to ships all over the world. To enable this crisis to be dealt with, I was given the initial task of reorganising the Service and Spares Department. Afterwards I was appointed Commercial Director of Ruston Paxman Diesels. In 1972, four years after the takeover of EE by GEC, I left the company to become Commercial Director of R A Lister at Dursley, Gloucestershire.
E J Cove December 2004
© E J Cove and Richard Carr 2005
---
In 1998, David Brown acquired the business of GEC Alstom, previously known as GEC Marine and Industrial Gears Ltd. With GEC Marine and Industrial Gears came a number of legacy brands, including Modern Wheel Drive (also known as Hindmarsh Gears). David Brown is the only approved supplier of service and repair for Modern Wheel Drive gearboxes and as the owner of all the original Intellectual Property Rights, has rapid access to drawings and technical specifications. The company has an international reputation for its expertise in the field of specialist gearboxes.
Enquiries about spares and service support should be address to:

David Brown Gear Systems Limited
Park Gear Works, Lockwood, Huddersfield, HD4 5DD, United Kingdom.
Telephone: +44 (0) 1484 465500 Fax: +44 (0) 1484 465586
Website: www.davidbrown.com
Page updated: 07 Oct 2016 at 21:25