Davey Paxman Horizontal Fixed Steam Engines
The Class B Engine
The Davey Paxman Class B horizontal steam engine was launched at the 1879 Royal Agricultural Show. It was more powerful than the Company's earlier Class A horizontals, and had a more sophisticated cut-off valve arrangement. As the range was developed it became available in coupled compound, tandem compound and condensing versions as well as the basic single cylinder form.
When first introduced, the Class B was designed to work with steam pressures up to 120 psi, twice the 60 psi working pressure of the original Class A. Reproduced in the next section of this page are the description and particulars of Class B engines as published in the Company's Catalogue No. 32 of June 1883 (pp 36-37). In that catalogue the engine was offered in single cylinder versions rated from 12 to 30 NHP and in coupled form rated from 25 to 60 NHP.
The 1883 catalogue refers to the Class B as a 'girder' engine, which can be misleading. Here it does not refer to an engine mounted on a base constructed of girders. To understand the term as used in the catalogue it may be most helpful to study the illustration below and read the brief paragraph immediately following it.
Lower down this page are a description and specifications of the Class B as advertised in a Paxman catalogue published some 30 years after the 1883 one. It is interesting to compare the two descriptions and note the changes introduced in the intervening years.
---
DESCRIPTION OF IMPROVED
HORIZONTAL HIGH-PRESSURE GIRDER STEAM ENGINES,
CLASS B.
We construct these Engines, with Single Cylinder, from 12 to 30 nominal horse-power, and from 25 to 60 nominal horse-power, coupled. They are preferred by many to the ordinary Horizontal Engine (Class A), and we have, for this reason, made them in sizes most likely to meet the requirements of our customers.
It is well understood, that to work economically with steam, higher pressure than were formerly common must be used, and these Engines are made sufficiently strong to be worked to 120 lbs. upon the square inch.
The outline is neat and graceful ; and the number of working parts being small the wear is considerably reduced, and the Engine rendered much more durable.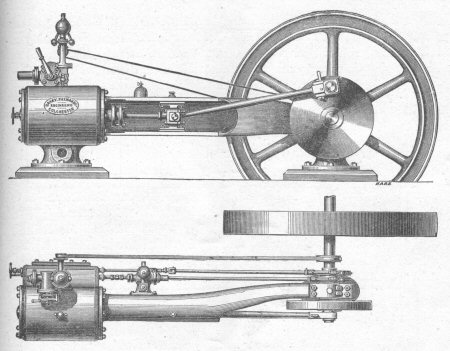 Engravings of a Class B Engine from the June 1883 catalogue.
It will be seen from the illustrations … that the Engine is very compact, and that all the parts are easy of access. The Girder, forming Cylinder Cover, Crosshead Guides, Main Carriage for Shaft, and Foot for Bolting to Foundation, is one casting, to which the Cylinder and Valve Chest are bolted.
All the wearing parts are adjustable. The Piston Rods, Slide Rods, Crosshead Pin, Joint Eyes, Joint Pins, and Governor Spindle are of steel. The Connecting and Eccentric Rods are of best forged wrought-iron. All these parts are finished bright. The Crank-Shaft is of steel.
Each Engine is furnished with our improved Quick-speed Governor, which keeps it under perfect control. It is further provided with Stop Valve, Heavy Fly-wheel and lubricators. The Cylinder is lagged, and provided with two drain cocks and grease cup. The Pump is of an improved kind, and will work well with hot water.
All these Engines are made to work expansively, with a single eccentric. They are also fitted with our improved Automatic Expansion Valve, or the ordinary Cut-off Valve, at option.
All parts are made to template and Whitworth's gauges. The workmanship and material are of the best kind, while the great facilities for producing these Engines enable us to offer them at prices below those charged for many second-rate Engines.
These Engines are well adapted for driving Electric Light Machinery, of which there are many at work, giving great satisfaction.
When required, air pump and condenser can be fitted, … .
Special strong steel boilers for working at high pressure are made by us, suitable for these Engines, for which we shall be pleased to quote.
---
PARTICULARS OF
HIGH-PRESSURE GIRDER STEAM ENGINES.
CLASS B.
Horse-Power
Nominal
Cylinder
Flywheel
Diameter
Stroke
Diameter
Revolutions
per Minute
12
12"
20"
7' 0"
90
14
12¾"
20"
7' 0"
90
16
13½"
24"
8' 6"
75
20
15"
24"
8' 6"
75
25
16½"
32"
10' 0"
60
30
18"
32"
10' 0"
60
The specifications for coupled Class B engines in the 1883 catalogue are as above except that the NHP ratings 25, 30, 35, 40, 50, 60 are double those of the single cylinder sizes 12, 14, 16, 20, 25 and 30 respectively.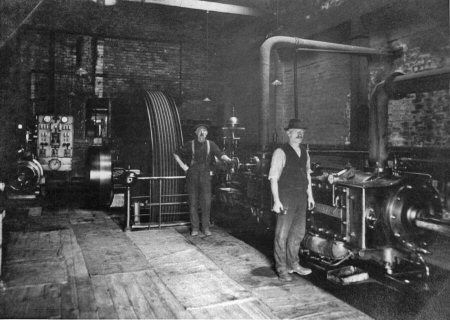 Tandem Compound Class B Engine at Bruce Woollen Mills, New Zealand.
Pictured above is a 40 NHP Class B Tandem Compound engine (condensing) supplied to Bruce Woollen Mills, Milton, New Zealand, under Paxman contract No 5163. Ordered in May 1897, it was despatched to Dunedin on 9th September 1897. The engine, No 9500, had cylinders of 12" and 21" bore x 32" stroke. In the centre of the picture is the grooved flywheel for rope drive, and to the left of that an electrical switchboard. The photograph is believed to have been taken circa the 1920s.
Class B Description and Specifications c.1913
The description and specifications below are taken verbatim from a Paxman catalogue, probably No 700B, thought to have been issued in late 1913 or in 1914. Major advantages claimed for this type engine were its simplicity and reliability.
---
The ordinary slide-valve engine is without doubt the most reliable type of steam engine it is possible to purchase, and although not so economical in steam consumption as a modern drop-valve engine, yet for simplicity, smoothness of running, ease of management, and general trustworthiness it is unsurpassed; and even with the slide-valve engine it is possible to secure very satisfactory economy in steam consumption if the engine selected is of the compound type, and a condenser is added. In many districts, where the engine drivers or attendants available are totally unskilled, the advantages possessed by the slide-valve engine in the way of reliability, freedom from breakdown and expensive repairs, usually far outweigh such a consideration as steam consumption; in fact, in many such circumstances, this is the only permissible type of engine to instal, as its construction and management can be readily grasped by the most unintelligent native driver. Such considerations make it particularly well adapted for export to far-Eastern markets, such as India, China, the Straits Settlements, &c. In addition, it is worthy of note that when once the valves are correctly set, they require no further adjustment.
We make our class "B" engines to fulfil the foregoing conditions of the single or double-cylinder types, working pressure 90 lb. per square inch, also coupled-compound, and tandem-compound types, for working pressures up to 140 lb. per square inch. In comparing our engines with other makes, we would particularly request intending purchasers to note that we have not followed the general plan which is adopted by most makers of this type, of largely increasing the piston speed, so as to obtain the utmost possible power out of the engine, preferring rather to adhere to comparatively low piston speeds at which the wear is infinitesimal.
From the illustrations and dimensions, it will be seen that our class "B" series of engines is very powerful, compact, and all wearing parts are easy of access.
Bed. The Bed of the engine is exceptionally rigid, being of the bayonet type, the trunk end forming sliding surfaces of large area for the crosshead slippers, while the front end carries the main bearing for crankshaft.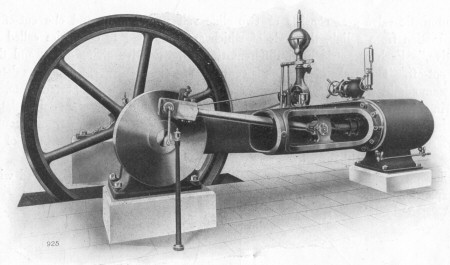 Class B Engine - Single Cylinder type - right-hand version.
Cylinder. The Cylinder is made with a special separate liner, and is supported on a broad foot, secured by suitable holding-down bolts. The illustration … shows a "right-hand" engine, that is to say, one with the flywheel on the right-hand side of the engine looking from cylinder end. A "left-hand" engine is always supplied unless we receive instructions to the contrary.
Feed Pump. A Feed Pump, worked by an eccentric from the crankshaft, can be supplied at an extra charge if required.
Paxman Automatic Expansion Gear. The single-cylinder range of engines can all be fitted with this gear, as shown in illustration, at an extra charge, but in the case of the compound type the standard equipment includes Paxman automatic expansion gear on the high-pressure cylinder, by means of which it is possible to secure great economy in steam consumption when running with varying loads.
Lubrication. Great attention is paid to the efficient lubrication of all working parts, and a sight-feed lubricator is provided for the cylinder.
Governor and Valve Gear. The range of single-cylinder engines are fitted with single slide valve, driven by an adjustable and reversible eccentric, and Paxman's improved quick-speed governor working on to a throttle valve; all the compound engines have automatic expansion gear, as previously mentioned.
Flywheel. This is of suitable size and weight for giving off the full power of the engine, and can if required be supplied grooved for rope driving at an extra charge. Unless otherwise ordered, the flywheel is arranged to run "out," that is to say, the top of the wheel revolves away from the cylinder, looking from the cylinder end. An outer bearing is supplied for supporting end of crankshaft beyond the flywheel.
Fittings. These are of the best quality, and comprise: Stop valve, sight-feed lubricator on cylinder, large lubricators, cylinder drain cocks, complete set of spanners, oil can, and foundation bolts and plates.
Condenser. We would refer clients to our previous remarks as to the advisability of installing a condenser when water is easily obtainable, as by this means it is possible to increase the power of the engine by about 10% to 20% with the same consumption of steam, or it will be possible to obtain the powers mentioned in the tables with a proportionately decreased consumption of steam.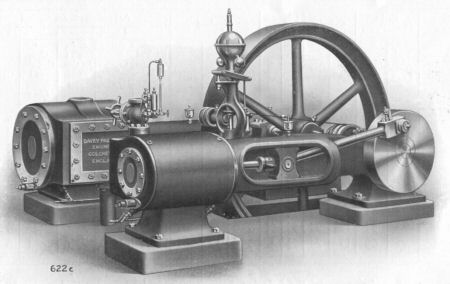 Class B Engine - Coupled Compound type
This automatic valve gear consists of two slide valves, one main and one cut-off, the latter deriving its motion from a link, the ends of which are connected to eccentrics called "Positive" and "Negative." Each eccentric has a different travel, the positive giving a late, and the negative a very early cut-off. The stroke of the link is controlled by the Governor, which thus determines the amount of steam admitted to the cylinder. The cut-off valve moves on a ported plate, which lays upon the main valve, loosely fitting the steam chest, and the ports themselves are doubled, thus halving the travel of the cut-off slide, and increasing the sensitiveness of the governor's control. The advantage of this arrangement is that, whilst a constant lead is maintained, the point of cut-off can be varied to any degree, without wire-drawing.
The specifications of the engines offered in the catalogue are as follows:
Class "B" Engines. Single Cylinder Working pressure 90 psi.
Nominal
Horse-
Power
Brake HP
Cylinder
Flywheel
Normal
Load
Max
Load
Diameter
Stroke
Diam.
Width
Speed
rpm
4
8
10
6½"
12"
4' 6"
5"
140
6
13
17
8¼"
14"
5' 0"
6"
120
8
18
24
9½"
16"
5' 6"
7"
115
10
20
30
10½"
18"
6' 0"
8"
110
12
27
39
12"
20"
7' 0"
10"
100
14
32
45
12¾"
20"
7' 0"
10"
100
16
36
54
13½"
24"
8' 0"
11"
85
20
45
66
15"
24"
8' 6"
12"
85
Class "B" Engines. Coupled Compound Working pressure 140 psi.
Nominal
Horse-
Power
Brake HP
Cylinder
Flywheel
Normal
Load
Max
Load
High P
diam.
Low P
diam.
Stroke
Diam.
Width
Speed
rpm
8
19
23
5½"
9"
14"
5' 0"
7"
155
10
26
30
6½"
10½"
14"
5' 0"
8"
155
12
30
35
7"
11¼"
16"
5' 6"
9"
135
16
41
48
8"
13"
18"
6' 0"
10"
135
20
50
60
9"
15"
20"
7' 0"
12"
110
25
68
78
10"
16½"
24"
8' 0"
12"
90
30
77
90
11"
18"
24"
8' 6"
14"
90
40
110
122
13"
21"
24"
8' 6"
17"
90
Class "B" Engines. Tandem Compound Working pressure 140 psi.
Nominal
Horse-
Power
Brake HP
Cylinder
Flywheel
Normal
Load
Max
Load
High P
diam.
Low P
diam.
Stroke
Diam.
Width
Speed
rpm
8
19
23
5½"
9"
16"
5' 6"
7"
135
10
26
30
6½"
10½"
18"
6' 0"
8"
120
12
30
35
7"
11¼"
20"
7' 0"
10"
110
16
41
48
8"
13"
24"
8' 6"
11"
90
20
50
60
9"
15"
24"
8' 6"
12"
90
Page updated: 20 JUL 2013