Howard (Sunbury) Ltd
Weybridge, Surrey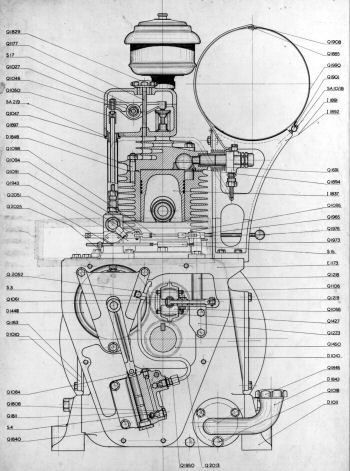 Acquired by Paxman in 1948, Howard (Sunbury) Ltd was a small engineering company which, in the 1940s, operated from premises at Weybridge in Surrey. In about 1947 the Howard company had launched a new range of small, light weight, air-cooled diesel engines. The A.85 engine incorporated technology licensed from the Freeman-Sanders Engine Co Ltd of Penzance.
Drawing of Howard A.85 Single Cylinder Air-Cooled Diesel Engine.
The Howard A.85 Engine
An indirect-injection type, the A.85 featured a Ricardo Whirlpool combustion chamber within its aluminium cylinder head. A weakness of the design was the poor attachment of this chamber to the cylinder head with the result that the chamber jangled loose in less than 100 hours of running.
Another weakness was difficult cold starting, despite the engine's 19 : 1 compression ratio.
The bore was 85mm and one of the drawings quotes a speed of 1,500 rpm. No information on power output is currently to hand.
The Paxman Archive Trust believes it has images of a complete set of manufacturing drawings for the A.85. These can be made available on CD at modest cost - please enquire in the first instance by using the feedback form on the Contact page.
We are aware of only two surviving Howard engine, see below, and would be greatly interested to hear of any others.
Arthur Freeman-Sanders
Arthur Freeman-Sanders worked for the Lister company as a designer and was to become its chief designer. One of his ideas for improving a diesel engine's cold starting ability was to start the engine at a high compression ratio and then switch the running engine to a lower compression ratio to reduce the load on key components. (For an explanation of his method, see www.oldengine.org/members/culp/lister_diesel_miscellany.html ) Some of the Lister engines he designed had a compression ratio of 19:1 for starting and 15:1 for running.
In 1934 Freeman-Sanders left Lister to join Fowler's diesel engine testing department. At Fowler he successfully designed a range of diesel engines and then a range of petrol engines. Freeman-Sanders' speciality was combustion chamber design. His 'two-way swirl' combustion chamber was designed to promote better air movement within the chamber, resulting in faster spread of the flame throughout the charge which aided full and complete combustion of the fuel.
Among Freeman-Sander's achievements was the design of a diesel engine for the Ferguson tractor.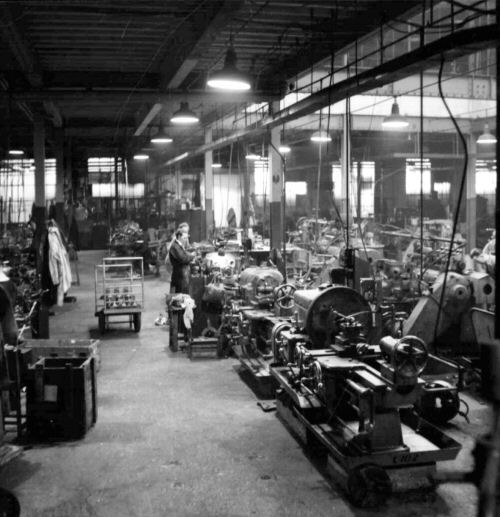 View of the Machine Shop at Howard's Weybridge Works.
Paxman's Acquisition of the Howard Business
In late 1947 or early 1948, shortly after the launch of its small air-cooled diesel, the Howard company went into compulsory liquidation. In March 1948 it was acquired by Paxman for £61,000. The buildings occupied by the Howard business were leased so were not part of the acquisition. The premises were in a very poor state and Paxman successfully pursued a legal claim against the landlord to recover rental which had been paid.
The question naturally arises as to why Edward Paxman should have been interested in acquiring the Howard business. Board minutes of the time reveal that it was the liquidators of the failed firm who approached Paxman. It has been suggested the key attraction to Paxman was not Howard's small air-cooled diesel but the machine tools in the Weybridge factory. Paxman had started manufacturing Ruston's VTH engine at Colchester and additional machining capacity was needed for making VTH components. During this post-war period machine tools were hard to come by. As soon as it acquired the Howard business, Paxman started making VTH parts at Weybridge and even moved 25 of its Colchester staff there for the purpose. Subsequently a large number of the machine tools and some Heenan & Froude dynamometers were removed from the Weybridge factory and installed in Paxman's Britannia Works at Colchester; a transfer which Paxman had planned to complete during September 1949.
At the time of the acquisition a sample Howard engine was sent to Colchester for examination and testing. It was probably this engine which Alex Walford recalled was used by Paxman at its Standard Works in the early 1950s for powering a test rig used for the development of an early experimental speed governor. In 1955 the Howard-engined test rig was superseded by a more substantial unit powered by a Turner V4 engine. (1).
Included in the acquisition were twelve partly-built Howard air-cooled diesels which were completed by existing Howard staff. Paxman attempted to sell these to several companies, together with the drawings and goodwill, but without success.
Note on the VTH Engine: The VTH was designed by Ruston and sold under the Ruston name. Large numbers of single and twin cylinder VTHs were assembled and tested by Paxman at its Britannia Works in the late 1940s and early 1950s. The VTH was a direct-injection diesel of 4" bore by 4" stroke. The single cylinder version had a power output of 5 bhp at 1,000 rpm or 7½ bhp at 1,500 rpm. The very solid and robust construction of the VTH had the disadvantage of making it a comparatively heavy engine.
Surviving Howard A.85 Engines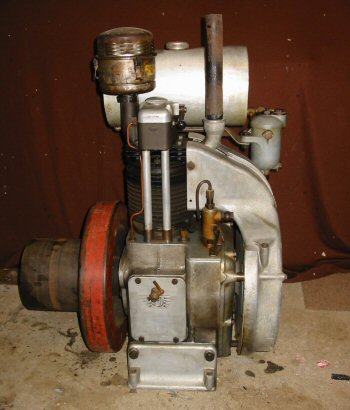 Up to 2012 it was thought highly unlikely that any example of a Howard engine would have survived. However, in October 2012 an email was received from Pete Jackson of the Nottingham Arkwright Society seeking help in establishing whether an engine recently given to the Society was an A.85. Comparison with images of manufacturing drawings for the A.85, held by the Paxman Archive Trust, confirmed that this was indeed an A.85; the only known surviving example at that time. Shortly afterwards an email was received from John Miles who had donated the engine to the Society.
Right: The Howard A.85 donated to the Nottingham Arkwright Society. Photo by kind permission of and © John Miles.
John explained that his grandfather worked for Ruston (well-known for its diesel engines) at Lincoln where he was eventually put in charge of the engine test shop. Ruston acquired the Howard, perhaps shortly after Paxman had purchased the Howard business (at the time Ruston held the controlling interest in Paxman). As John understands it from family history, Ruston did nothing with the engine which stood for some time in a corner of the test shop. His grandfather then bought the engine from the company for £10 in about 1953. John's grandfather, and then his father, used the engine regularly until about 1987 for driving a circular saw to cut logs in the family's six acres of woodland near Lincoln.
The Howard proved to be a bit of a beast to start and for a time a small Nelson Brothers 'Jumbo Line' 1½ hp kerosene engine was used as a donkey engine to get it started. Later John's father, who had served his apprenticeship with Gardner's of Manchester (another famous diesel engine manufacturer), used his big garden cultivator, with a power take-off pulley on one side, to start the Howard. This was achieved with the aid of a long V-belt, a wedge to go under the decompression lever, and a long length of string to pull out the wedge. It did frequently need a good spray of Easy Start into the air cleaner.
In 1987 the family sold their woodland and the Howard and Nelson engines were retired. John was reluctant to dispose of them so they sat in his garage at Derby for 25 years. John recognised that not being an engineer, unlike his father and grandfather, there was no realistic likelihood of him getting them going again so he looked around for a good home for them. The Nottingham Arkwright Society seemed to be a perfect place where they could be restored and seen by the general public.
Both engines are now part of the Nottingham Arkwright Society's collection which is housed in the Nottingham Industrial Museum at Wollaton Hall, just west of Nottingham (postcode NG8 2AE). For more details and visitor information see the Society's website at www.nottinghamarkwrightsociety.co.uk and the Museum's website at www.nottinghamindustrialmuseum.co.uk Both these ventures are run entirely by volunteers who are keen to receive visitors and would welcome their support.

The Second Surviving A.85 Engine
In July 2017 an email was received from Tom Whitehead about a second surviving Howard A.85 engine. Acquired by the Whitehead family in late April 2013, this engine was collected from the previous owner at Steyning (West Sussex). The former owner was unable to cast any light on its previous history. Now kept at Wroughton, near Swindon, it is in good working order and shows very little sign of use.
Right: The Whitehead family's Howard A.85 in May 2013. © Tom Whitehead.
Initially the engine proved difficult to start. The compression is excellent: so good that neither Tom nor his son could crank it past the first compression on their own. Undaunted, they tried with a handle at each end of the crankshaft and, using this method, are able to start it every time on the second compression without any need for Easy Start.
It was noticed that the fuel pump lifted at one side during use and the cause was quickly identified as a stripped thread in the aluminium crankcase. In July 2017, after several years of storage, the Whiteheads decided they would take the engine to Robert Jackson's Open Day (at Sevenhampton, near Cheltenham). They were ready to do the relatively simple repair and then get the starting handles out. They reckon that starting normally would be feasible with a heavier flywheel.

Any More Information?
If anyone is able to provide more information about the Howard company or its engines, please contact me.
---
References
1. Stationary Engine, June 1989, Howard Reminiscences by Alex Walford, page 14.
© Richard Carr 2012, 2017
Page updated: 01 Aug 2017 at 10:42