Paxman Steam Traction Engines
1906 to 1917
A brief history of Paxman steam traction engines appears on the Steam Engineering page under the Traction Engines heading.
This page has three main sections, as follows:
1. Technical Specifications including power outputs, bores and strokes, working pressures, speeds and wheel dimensions.
2. Surviving Paxman Traction Engines with details and pictures of the five known remaining traction engines.
3. Scale Models with information on some scale models of Paxman traction engines and relevant drawings.
Paxman Traction Engine Specifications
Most of the information in this section is drawn from two early Paxman catalogues:
No 526 Traction Engines, Steam Tractors and Road Locomotives, published c.1908/9.
No 700A Paxman Portable Engines, published 1913. Pages 34A to 43A deal with traction engines. (view transcript of text)
Common Features
The engines described here were all designed for a normal boiler working pressure of 160 psi, except the compound road locomotive (180 psi) and straw burners (150 psi). All were fitted with 'Trick' type slide valves and Pickering governors.
The types of traction engine offered by Paxman in these catalogues were as follows:
Steam Tractor
This was a small 4 NHP, three shaft type, traction engine, built for running under the Local Government Board's Motor Regulations. Designed for road work, it was mounted on springs at the front and rear as standard and had travelling speeds of 3 and 6 mph. It was suitable for hauling loads from five to eight tons or for driving a small thrashing machine.
The main specifications are those shown in the table below for the 4 NHP engine. The overall length of the engine was 12' 3", the width 5' 0", and the diameter of the leading wheels 3' 3". Catalogue No 526 give the engine speed as 300 rpm and the weight empty as "under 5 tons". Catalogue No 700A gives the speed as 200 rpm and the weight as 4¼ tons. The reason for the large difference in speeds is unknown. The earlier catalogue does not indicate the bhp but it should be noted that the bhp outputs quoted for the other five sizes of single cylinder engine are greater in catalogue No 700A than in No 526.
General Purpose Traction Engines
These were offered in five sizes between 5 and 10 NHP, had four shafts in the transmission and were single geared on the last motion. A differential was fitted on the right hand side of the rear axle.
The power outputs and dimensions of General Purpose Traction Engines given in catalogue No 700A are as follows:
General Purpose Traction Engines.   Working pressure 160 psi.
Nominal
Horse
Power
Brake
Horse
Power
Cylinder
Flywheel
Speed
Driving Wheels
Weight
empty
Tons
Diam.
Stroke
Diam.
Face
RPM
MPH
Diam.
Width
4
16
6"
9"
2' 8"
5"
200
3 & 6
4' 6"
10"
4¼
5
28
8"
10"
3' 6"
5"
180
2 & 4
5' 6"
1' 2"
7¾
6
30
8"
12"
4' 6"
6"
155
2 & 4
6' 0"
1' 4"
9¼
7
35
8½"
12"
4' 6"
6"
155
2 & 4
6' 0"
1' 5"
9¾
8
40
9"
12"
4' 6"
6½"
155
2 & 4
6' 6"
1' 6"
10¾
10
50
10"
12"
4' 6"
6½"
155
2 & 4
6' 6"
1' 6"
11¼
In catalogue 526 no bhp figure is quoted for the 4 NHP engine but figures for the others were given as 20, 24, 28, 32 and 40 bhp respectively. It has been suggested the earlier bhp figures may have been estimates and the later ones based on fuller knowledge.
Compound Road Locomotive
As described in catalogue 526, this was a 7 NHP, 30 bhp, compound with cylinder bores of 6" and 10½" and a stroke of 12". Designed for a working pressure of 180 psi, with a crankshaft speed of 180 rpm and road speeds of 3 and 5 mph, it could be fitted with three travelling speeds at extra cost. The flywheel was 4' 0" diameter, the driving wheels 6' 6" dia x 1' 6" wide, and the leading wheels 4' 0" dia. Weight empty 11 tons.
One of the these engines was 'Dreadnought', No 14434, bought by J Allee of Newbury in 1908 who wrote to the Company in September that year saying it used only a third of the coal of another engine and that "She goes well on her third speed, which is a big advantage when we finish a long way from home."
Straw-Burning Traction Engines
Paxman offered a Straw Burning type, designed to burn straw or wood, for export to countries such as Argentina. Only two were ordered, both 10 NHP engines for Argentina. The orders were placed by Allardice & Dimslow in April 1908 but were subsequently cancelled. The engines remained at Paxman's Works until being sold to English customers in December 1917. One, No 14766, has survived and details appear in the following section of this page.
Surviving Paxman Traction Engines
Paxman was not a major manufacturer of tractions engines like Burrells of Thetford, Clayton & Shuttleworth of Lincoln or Garretts of Leiston. We know of literally only a handful of the Company's engines which have survived. As at October 2008 three were steamable, one was awaiting a boiler rebuild and another was nearing completion of a major restoration.
The ownership histories of the engines, as far as is known, is included in a full listing of Paxman traction engine orders which is available through the Download page.
---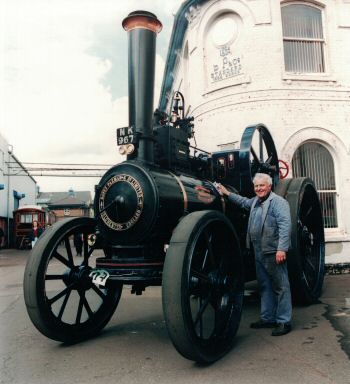 No 13073 The oldest known surviving Paxman traction engine is a 7 NHP two speed engine, built under Paxman Order No 8039 and despatched from the Colchester Works on 31st July 1907.
The original purchasers were A T Oliver & Sons of Wandon End, Herts. In 1948 the engine went to another local owner, Mrs Ruth Holinden of Flamsteadbury. Passing through the hands of A G Evans of Wigginton, near Tring, and Palmers of East Dereham, it was rescued for preservation in 1962 by Tom Paisley of Holywell, near St Ives, Huntingdonshire. During the period of Mr Paisley's ownership it underwent restoration and was given the name 'Davy Crockett'. At the renowned Paisley sale on 1st October 1980 the engine was sold to J E & E J Aldrich of Louth, Lincs, for £11,250. During the Aldrichs' ownership the engine was painted in the more usual Paxman livery of green and red with yellow lining and given the name 'Victoria'.
In 1990 'Victoria' passed to Duncan Marston of Icklingham, Suffolk. I saw the engine in May 1997 when it came to Paxman's Standard Works during the Three Counties Steam Tour. At that time it was painted a dark blue with red and cream lining. Some time after that there was a problem with the firebox. When I met Duncan Marston at the Weeting Steam Rally in Norfolk in July 2010 he told me that major repairs had been completed by Israel Newton Ltd of Idle, near Bradford, to make the engine closer to its original specification. This work included a new firebox, tube plate, tubes and repairs to the barrell, throat plate and backhead. At the time, all that remained to be done was to re-assemble the engine.
No 13073 was auctioned by Cheffins on Saturday, 21st April 2018. It was advertised as being 'now in top condition', just having had its ten year hydraulic test and having a current boiler certificate. The engine fetched a hammer price of £94,000, near the mid-point of the auctioneer's estimate, and was bought by Neil Bowers of March, Cambridgeshire.
In April 2021 the engine was being advertised for sale by Legacy Vehicles Ltd of Suffolk (website: www.legacyvehicles.co.uk), on behalf of the owners, at a price of £125,000.
Victoria is pictured here with Duncan Marston at Paxman's Standard Road Works in May 1997 at the end of the Three Counties Steam Tour organised by the East Anglian Traction Engine Society. Behind the engine is part of what was the Company's main offices in earlier times - sadly demolished in 2005.

---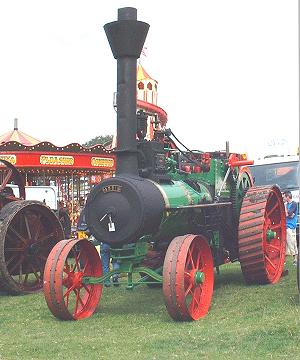 No 14766 This was one of two 10 NHP 'colonial' straw burner engines ordered by Allardice & Dimslow on 7th April 1908 for South America. The orders were cancelled and No 14766 remained in Paxman's works for several years until being sold to Frederick Bishop of Sible Hedingham in Essex, to whom it was despatched in December 1917.
It has been suggested that Paxman sold the engine in 1917 as a portable but that is not borne out by the entry in the order book. Under Order No 13677 of 11th December 1917 it is described as a 10 HP S.C. Traction Engine. Peter Love says this engine was a portable for many years, until at least the late 1970s when he saw it in that form at Johnson of Banks. It was subsequently converted into a single-speed traction engine in preservation. Following substantial restoration by John Ingoe of Rochdale, No 14766 was brought back into steam in 1993.
Photo © Stanley Challenger Graham 2003
John ran Rochdale Electric Welding Co Ltd, a company specialising in boiler repairs, so was better placed than most for the expertise and facilities required to look after the engine. A new firebox was fitted by his company in 2000/2001. During 2002 No 14766 attended the Haworth Vintage Weekend at Keighley, and the Masham Rally in North Yorkshire. The engine is pictured here at the Masham Steam Engine & Fair Organ Rally in 2003, looking superb after having been repainted since the 2002 season.

At the end of May 2003 an email was received from Stanley Graham who worked for John Ingoe while they were restoring Annie. Stanley gave some interesting details about the engine's restoration and the challenges of its road handling. In his own words: "I'd had a bit of experience with engines and also had a workshop at home so I was promoted to engine fitter (acting/unpaid). John asked me to make and fit a new crank bearing after the old one had run hot due to the sun shining on it. When I took the old one out I found it was made up of two shells from different bearings, neither of which had anything to do with Annie, so I made a new one and fitted it. While I was on with this I measured the stroke accurately to get the proper centre for the bearing and found it had been running at the back end of the cylinder before. It must have been running like this for many years because when the new bearing was fitted the rings hit a wear ledge at the front end. I took the cover off and ground the ledge off with an angle grinder; I can still see John's face when he walked in and saw me attacking his baby! It was a complete cure of course and it runs somewhere near right now. The interesting thing about this is that when originally manufactured, the cylinder was bored parallel right to the end, no bell mouth. I don't know whether Paxman's made all their engines like this but someone should have introduced them to the concept of the bell mouth which of course allows the edge of the ring to slide out of the bore and you never get a wear ledge. One other interesting thing about 'Annie': we had to make completely new gearing for it as it had none when we got it. The gears were flame-cut by Bolton Profiles. All we gave them was a drawing of two sample teeth and the dimensions. We never had to touch the teeth, the finish was good enough from the flame. The only slight imperfection was that because of expansion as the cut proceeded, the finishing point was slightly deeper at the end of the cut than at the beginning. On the biggest gear this was less than a thirty second of an inch and was ignored. If John ever gets another engine I've made him promise it will have a lid on, brakes and rubber tyres. Handling 'Annie' on granite setts, in the rain and on a steep hill can be interesting especially when you're running with one wheel driving. Chucking it into reverse can be quite exciting. I made a dog clutch and put it in the drive to engage both wheels but we found it wouldn't steer at all then so all normal running is done in single drive. We steamed it at Cullingworth this year and the new firebox is a definite improvement. She must have one of the best boilers around now."

Stanley offered some further comments in an email received in July 2003. He says Annie is bigger than she looks, the boiler and firebox being bigger than any UK built engine he has ever seen. The front wheels are original equipment and have not been modified. The back wheels are off a Fowler, the original wheels having been used for a gun carriage in WW1 according to the information he and John have.

Stanley says John's policy is to run at about 90psi maximum even though they know the boiler is perfect. At 150psi she is very difficult to drive as she is single geared and has a very big and sticky regulator. As Stanley puts it "she was built for the belt, not trundling". Talking of belts, he notes one awkward thing - the rim of the flywheel has no crown, it is flat. This makes it a real challenge to line up the engine to drive anything as you have to have it spot on. Alex Walford has confirmed that it was usual Paxman practice to make its flywheels with a crown so what happened here is a bit of a mystery.

Stanley mentioned a couple of other unusual features of the flywheel on Annie. There is a clutch inside the flywheel which makes it far more manageable for belt work. It is easy to throw the engine out of gear and feed power in gently with the clutch instead of giving it a large enough slug of steam to start from rest. Alex says it was usual for the Paxman 'colonial' engines to have this flywheel clutch arrangement. Secondly there is a steel hoop shrunk on the rim of the flywheel which was not normal practice on other traction engines. Both Stanley and Alex believe this was probably done on the colonial because of the risk of the cast iron flywheel bursting due to the internal pressures and strains imposed by the clutch.
As at March 2018 the engine was being offered for sale on the website of Preston Services, near Canterbury.
---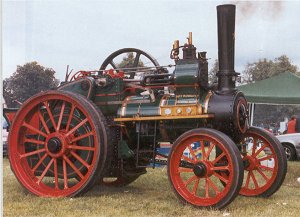 No 16849 Another Paxman engine which has been superbly restored is 'Little Audrey', registration number AF 3373, owned by Mr Will Dakin of Sandbach, Cheshire.
A 6 NHP engine, built in 1911, it was originally exhibited at the Bath and West and Royal Cornwall Shows in 1911 before being sold that year to H H Truscott of Cornwall for £350. Will Dakin acquired No 16849 in 1983 in a totally dismantled state. He spent 6 years rebuilding it and has regularly rallied it ever since. (He also has two Paxman steam portables, No 15584, Little Sheila, acquired in May 2001, and No 12729, acquired in April 2013.)
Photo - Alex Walford

---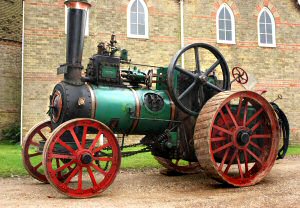 No 19412 'Drumtochty' is a 7 NHP engine, built in 1916, which carries a Kent registration number, KE 2700. It was owned by Robbie Jardine of Offham, Kent, from 1971 until being acquired by Michael List Brain in 2008 for his Steam Museum at Preston, near Canterbury.
No 19412 at Preston, near Canterbury, in 2008
Photo courtesy of Preston Services
The engine is said to have been very tidy in the 1960s and 1970s. When seen at the Sellindge ralley, near Folkestone, Kent in 2000, No 19412 was reported to be in very original condition. Although the firebox had been repaired and many of the stays replaced, one commentator remarked that, at the time, it could best be described as a "working engine". Another knowledgeable source has said that because of wear on some moving parts, the engine has been relatively noisy in recent times. Perhaps not surprising after more than ninety years!
Both this engine and the next, No 19413, were delivered new to the War Department. It is possible they were originally ordered by another customer and then requisitioned because of the war. By 1921 they were both owned by Wingham Engineering Co Ltd of Wingham, Kent. No 19412 appears to have spent virtually the whole of its life in Kent. From the records it appears that Nos 19412 and 19413 were the last two traction engines built by Paxman.

---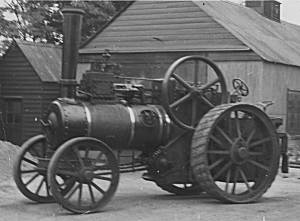 No 19413 Another 7 NHP engine with a Kent registration number, KE 2701. She was delivered new to the War Department in October 1916.
This photograph from Peter Love's collection was taken by the late Bill Martin of Buxted, East Sussex on 19th June 1954. The engine is pictured in the yard of Christopher Lambert at Horsmonden, Kent.
No 19413 is undergoing restoration by its present owners, Robert and Jane Holt of Hinckley, Leicestershire. Mr Holt plans to name it 'The Engineer' in memory of his father-in-law who was an engineer all his life. Unfortunately some work done on the boiler in 2007-8 by a contractor was deemed to be unfit for purpose. Information on boiler drawings was sought in February 2014 so that instructions could be given to another specialist to build a new boiler. A sad setback but Robert is determined that the restoration should be completed and the engine be put back in steam.

---
Scale Models of Paxman Traction Engines
On the front cover on the June 1st, 1944 issue of The Model Engineer magazine. This has a picture of an example of the 'M.E.' 1 inch scale traction engine built by a Mr Jacobs of High Wycombe. The caption under the photograph states that the model "was exhibited at the Kodak Recreation Society's exhibition". Presumably the model had been exhibited shortly before June 1944. The photo was by Kodak Ltd and perhaps Mr Jacobs was, or had been, an employee of Kodak. That would appear to be the most likely explanation for the engine being shown at the Kodak Recreation Society's exhibition.
The National Historical and Cultural Museum-Reserve "Niasvizh", Belarus
I would question whether Station Road Steam currently has for sale the 1 inch scale model of a 7 NHP Paxman engine shown on its website at https://www.stationroadsteam.com/model-engineer-traction-engine-stock-code-2826/ . Just above the main picture on the website, in capital letters, is 'SOLD AUGUST 2006'. I wonder where that model is now.
we imagined that his model might have been displayed at an exhibition of models which the forebears of this club mounted in November 1945 to mark the ending of the war. We have some press photos of that exhibition and have been able to identify the same actual model – with the solid flywheel.
The Model Engineer cover picture that the Belarus museum sent, identifies that it is Model Engineer design for a 1 inch scale engine. That design was by Henry Greenly. And, by chance, I have copies of the original blueprint drawings revealing that the details of the design were published in that magazine between January and June 1933
One of our members discovered that Station Road Steam currently has such a model for sale (see this website https://www.stationroadsteam.com/model-engineer-traction-engine-stock-code-2826/ ) and ascribes the prototype for the model to be the 7hhp Davey Paxman engine. Rather a rare engine, this is a 1 inch scale model of a 7 NHP Davey Paxman agricultural traction engine to Henry Greenly's design, serialised in "Model Engineer". This handsome engine was built many years ago to a high standard - the machining work is good
It is somewhat astonishing that a model that we hadn't recognised from 1944/5 should re-appear so many years later in Belorus – and in what looks to be a pretty good uncorroded condition.
In my earlier comments to you in 2005 I referred to the 1¼ inch scale English Mechanics design. I subsequently acquired also the 1 inch scale Model Engineer drawings. Interestingly the English Mechanics drawings show right hand steering whereas the Model Engineer design has left hand steering.
---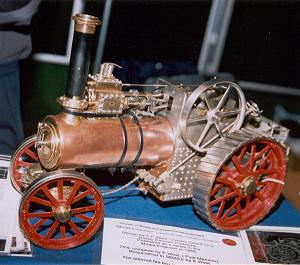 Plans for the 1" to the foot scale traction engine, pictured to the right, were published as a series in 1958 Model Engineer magazines. The drawings were done by E F Steel, based on a Davey Paxman 7NHP traction engine. The 75% completed model was made by the late E West in the 1960s and was bequeathed to the Society of Model and Experimental Engineers.
The model was displayed on the Society's stand at the 73rd Model Engineering Show at Sandown Park, Esher, Surrey, where it was photographed on 29th December 2003.
Photo © Peter Love 2003
The first of the 1958 Model Engineer articles on this engine has a note saying the original design was by Henry Greenly. The model shown below may also have followed the Greenly design but it is not known where that design was first published. Henry Greenly designed the Paxman-built 15" gauge locomotives running on the Romney Hythe & Dymchurch Railway.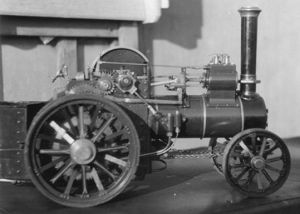 Another model of a c.1907 Davey Paxman 6 NHP, 10 ton traction engine, 1.25" to the foot scale, is owned by Martin Cooper who emailed us with details in February 2004. It was built in the early 1940s by his grandfather, Mr B H Negus of Shavington, Crewe, who went on to make two other models, a Pacific class 4-6-2 ("Hielan' Lassie") and an 0-4-0T tank loco ("Midge").
The model is complete and has been steamed regularly in the past. As at February 2004 Martin had recently run it on compressed air and was in the process of getting the boiler tested again.

An article and photographs of a 1 inch to the foot scale model of a Paxman traction engine, built by S G Friar, were published in the September 9th, 1943 issue of Model Engineer. The magazine had earlier published the drawings used by Mr Friar for his model (which carried the name 'Omega'). One wonders whether the drawings published in 1958 issues of Model Engineer were based on the pre-1943 drawings.
Jon Geraghty emailed in June 2005 to say he has a copy of the 1956 redraft of the drawings of the 1" scale model. The redraft is entitled 'Henry Greenly's "The Model Engineer" working model traction engine scale 1 inch to 1 foot'. Jon has obtained a set of unused castings dating from the 1950s to go with these drawings and plans to build the model when a current project is completed. The drawing sheet is headed as a Greenly and Steel drawing and the signature of the draughtsman is Ernest Steel. It would appear that Ernest Steel married Greenly's daughter Eleanor. After retiring from a successful career in the Civil Service Steel joined Greenly's family firm and continued model engineering work after Greenly died. He updated and revised many of Greenly's original designs and wrote a biography of Greenly.
John Boothman of the High Wycombe Model Engineering Club emailed in December 2005 to say one of the Club members has acquired a set of 5 blue print drawings by Henry Greenly for a 1.25 inch to a foot English Mechanics Steam Traction Engine, dated 1931. It seems probable there was a contemporary series of construction articles in English Mechanics magazine. The Club member has acquired also various completed and part-completed parts for the model (very nicely engineered). It is assumed that E A Steel probably based the 1958 Model Engineer one inch scale model upon his father in law's earlier original. The Club have not yet obtained a copy of the 1958 Model Engineer construction articles from which to make a comparison. Two interesting aspects of the Greenly design are that it has a cab roof and that the steering is on the right hand side. John Boothman went on to add that the original Greenly drawings are numbered TR 1 to 5. There is also a supplementary drawing to the Greenly set. This extra drawing, numbered TR5A, is dated May 1947 and is by A J Every of Williams Road, Ealing, W13. It shows an alternative feed water pump detail and revised dimensions for the Stephenson link. Mr Every claimed copyright to the alternative design and also supplied castings.
Any More Information?
If you have additional information on any of the engines described above, or know of any not mentioned here (regardless of condition), please let me know via the Contact page.
Page updated: 17 Jun 2022 at 15:35